How do I convert YouTube to iPod?
Introduction.
YouTube was introduced as an online service for easy sharing of videos. Its popularity went beyond any imagination, and it changed the internet itself. People started to share funny videos, personal videos, shocking videos about accidents, catastrophic events, and so on. YouTube has become a synonym for news.
Currently this online video storage contains tons of short and long episodes of all kinds. Virtually every person can find there something of his or her interest. Something funny, amazing, or simply 'in tune'.
And that's where people start to wonder how to share their experience with offline friends.
With YouTube, you can't simply copy the video to your computer. However, there are programs that download YouTube videos and convert them to an appropriate format. We discuss here one of such programs, Movavi Flash Converter.
Step 1: Download and install the program.
Download Movavi Flash Converter to a known location. Run setup and follow on-screen instructions to install the application.
Step 2: Start the program. Open the link to your favorite video.
Launch Movavi Flash Converter. Go to your browser, open your favorite video. Select and copy the link from the address bar (right-click it with your mouse and select "copy").
On its toolbar, click the "+ URL" button.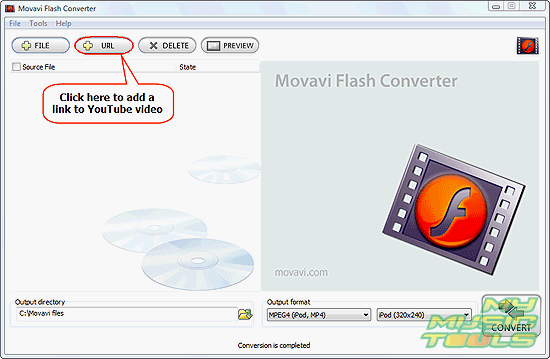 The link that you've copied will be automatically inserted into the window. Just click "OK" to add it to the conversion list.
Step 3: Select output folder and format. Download and convert YouTube videos.
In the lower part of the window, select output directory for saving converted files (1).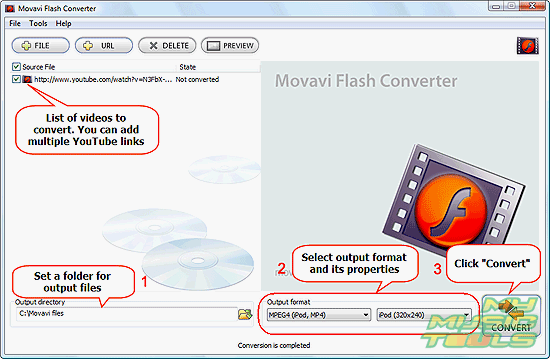 In the output format area, select "MPEG4 (iPod, MP4)" from the left dropdown list, and "iPod (320x240)" from the right dropdown list (2).
Now we are ready to convert YouTube videos to iPod. To start converting, click the big "CONVERT" button in the right lower corner of the program (3).
The program will start downloading and converting.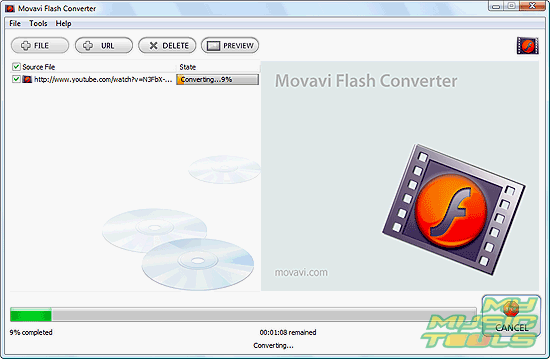 This process may take some time, depending on your internet connection, number of videos to convert, and on the server load. You can simply minimize the application and let it do its job.
The trial version of Movavi Flash Converter adds a flashing logo to all converted videos. To remove this limitation, you can register your copy and unlock the program with the provided data.


Related:
How to create a Flash-player for your audio files?
FlashWAmp + Fun SoundPlayer Maker 1.0 review
How do I convert Flash to Video?
How do I extract images and video from flash files?
How to create a banner with Flash?
How do I convert YouTube to iPod?