How to download YouTube video?
Introduction.
Watching YouTube videos brings so much fun to millions of people from all over the world every day. No matter how often you watch videos from YouTube, the thought of having some of them at your disposal probably visited you. But you can not simply save a YouTube video, like an image, without special software.
In this article we will discuss how to download YouTube clips using a completely free tool, Free YouTube to MP3 Converter Studio. While the program can convert YouTube to MP3, just like its name suggests, it will also download YouTube videos and save them on your computer.
Step 1: Download and install the program.
Download Free YouTube to MP3 Converter Studio to a known location. Run setup and follow on-screen instructions to install the application.
Step 2: Start the program. Add YouTube link.
Launch Free YouTube to MP3 Converter Studio. The main window of the YouTube downloader will be shown:
There is a hint below the toolbar suggesting that we should click the "Add a YouTube link" button. However, let's copy the YouTube link first:
As we return to the YouTube downloader, we can see that our video is already in the list. By default, Free YouTube to MP3 Converter Studio is configured to convert YouTube to MP3. Let's open its settings and specify that it should only download YouTube videos. To do so, click "Tools" - "Settings" or press "F10". On the first, "General" tab, there is an "Output format" field. Its dropdown list allows you to choose from "MP3", "WAV" and "Original file". Select "Original file" here.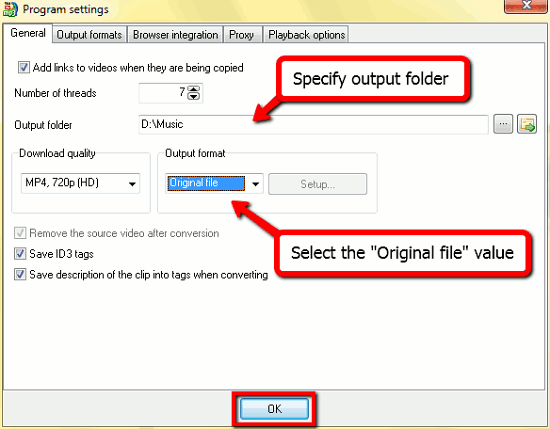 In the "Download quality" area, you can select the preferred video quality to be downloaded from YouTube. The higher quality you select, the bigger your output video file will be. Not all of YouTube videos are available in high definition formats, so if the program can not find the format specified in "Settings", it will take the nearest best quality.
Click "OK" to return to the main program window:
Clicking the "Download" button will start the process, but if you'd like to get several videos at once, simply copy their links to the clipboard, just like above, and they all will be added to the download list automatically.
The program starts to download YouTube videos simultaneously in several threads, which is why videos are downloaded very quickly. Finally, you will see the following message:
Now just click the "Open folder" button and enjoy the saved YouTube clips.

Related:
How to download YouTube video?
How to convert YouTube to MP3?
How to convert YouTube to AVI?