How to organize my music collection?
Introduction
For many people, music has become an essential part of their everyday life. Music album collection reflects aspects of personality which can't be seen or expressed. But when the quantity of your discs overwhelms some boundaries, keeping it in order turns out to be a problem. In such situations, special software solutions can be pertinent and make the music organizing process much more enjoyable.
Let's take a look at one of the most distinctive representatives of such software, a music manager called Musicnizer. Here we will discuss some basic helpful features concerning music albums organizing.
Step 1: Download and install the program.
Download Musicnizer to a known location. Run the downloaded setup and follow on-screen instructions to install the application.
Step 2: Start the program. Create a new database.
After the program starts, you will see a demo album database and Musicnizer will prompt you to create a new one. Click "File" - "New database", choose a name and a destination folder for your music collection database, hit "Save". The contents of all windows will refresh showing no records.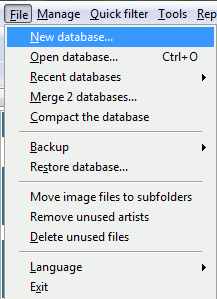 Step 3: Add an album to your database.
At this point you see the main window of the organizer, so take a look at the toolbar above. The "Add album" button begins your journey into the world of music, click it and let's watch how it happens. A new window appears, offering to choose among different methods: by title, by barcode, from Audio CD, from files and folders. Choose the method that is most convenient for you, depending on a type of media. One step further Musicnizer will look for information on the internet about the added album, and here you can define an online database to use by clicking the "Options..." link.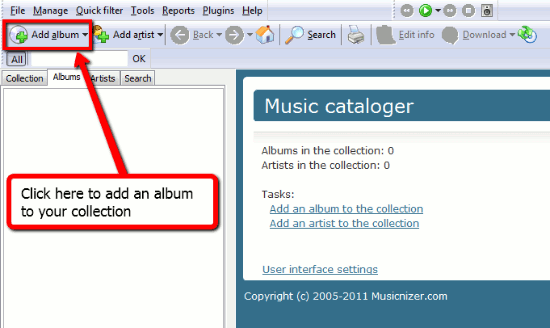 Let's try to add some album by its title. Type the title in and click "Next".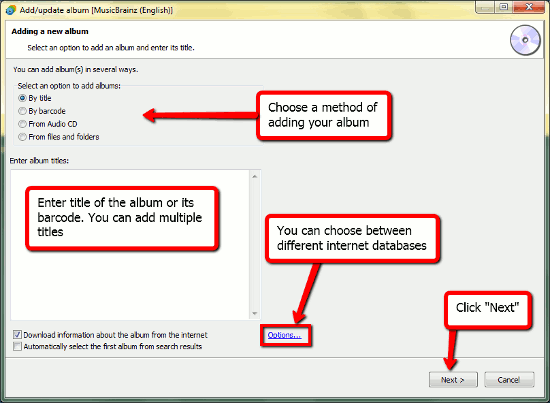 Musicnizer performs a search and gives you a list of albums that match your criteria. Select the right album or trust this to the program by checking the "Automatically select the first album from search results" option.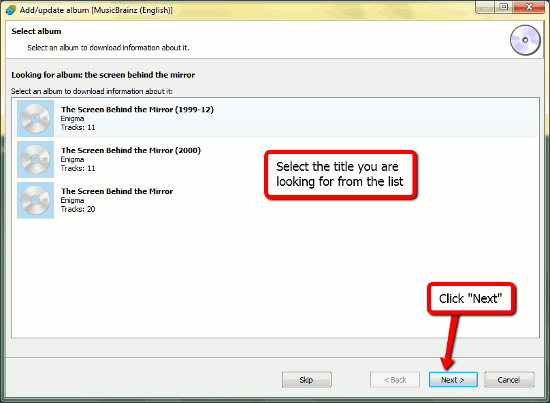 Having downloaded all needed data, Musicnizer will show the information about the album: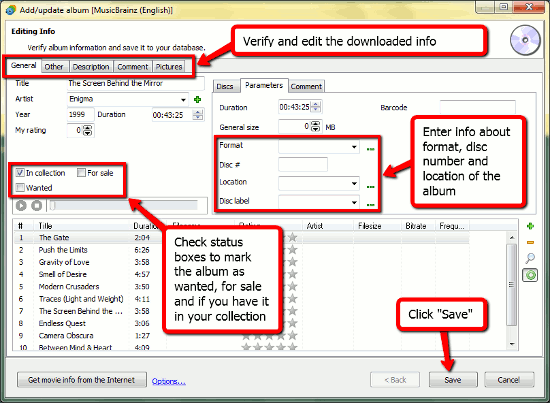 As you can see, each entry is editable and the downloaded info can be re-entered or adjusted according to your needs. But let's concentrate on our problem of organizing and take a look at some specific options:
The "In collection" flag enables you to mark albums as ones that you own, thus separating them from others. The "Location" field reminds where some particular disc is stored, and you can choose, edit or add locations.
Click "Save" to complete the process of adding your music album. After adding several albums, you can already test the sorting and searching capabilities of Musicnizer along with the other features that will help you to handle and keep in order your music collection.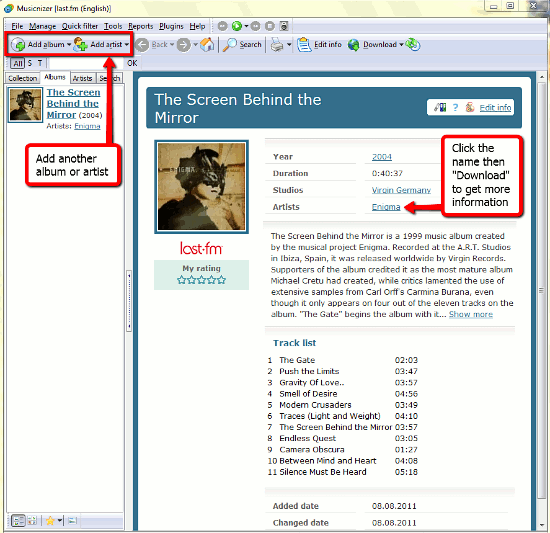 Related:
How to extract MP3 tags from filenames?
How to download MP3 tags for free?
How to download MP3 lyrics for free?
How to remove music duplicates?
How do I find duplicates in my music collection?
How to rename MP3 files using ID3 tags?
What ID3 tag editor can edit WMA tags?
How to download MP3 album art?
How do I get ID3 tags from the Internet?
How to download lyrics for songs?
How do I tag MP3 files with ID3 data using filenames?
How do I sort MP3 files? I want to organize my music collection.
How to keep track of my borrowed music albums?
How to make a catalog of my music collection using album barcodes?
How to get the biography of an artist?
How to manage my music collection on a Dune HD media player?
How to Create a Complete Music Album List For My Collection?
How to organize my music collection?
How do I organize my music collection?
How do I remove duplicates on my computer?
Advanced MP3 Catalog Pro 3.28 review
Media Catalog Studio 4.5 review