How do I remove copy protection from music purchased online?
Introduction.
There are many DRM-protected audio formats: WMA, M4P, AAC, M4B, AA. They are used to offer customers a handy service - downloading music online - while preserving music industry itself from non-authorized copying and distributing. However, this kind of protection rarely stops the people that really want to distribute copyrighted content illegally. Instead it makes life of usual customers difficult.
You have purchased some song but can't listen to it on your stereo system? Well, there are some options. Firstly, it is possible to hack copy-protection, but it is considered to be a crime. Hacking copy-protection is not allowed.
Another way would be to play the protected file and record it in real time. As most countries allow to make backup copies of copyrighted content, this shouldn't be a problem. However, you should check the corresponding laws of your country to be sure that you don't make something illegal.
In any case, please note that it is not allowed to distribute a copyrighted content.
To remove copy protection from music purchased online we will use MP3 Recorder Studio.
Step 1: Download and install the program.
Download MP3 Recorder Studio to a known location. Run setup and follow on-screen instructions to install the application.
Step 2: Start the program. Set it up for recording.
Start MP3 Recorder Studio. You will see the main window: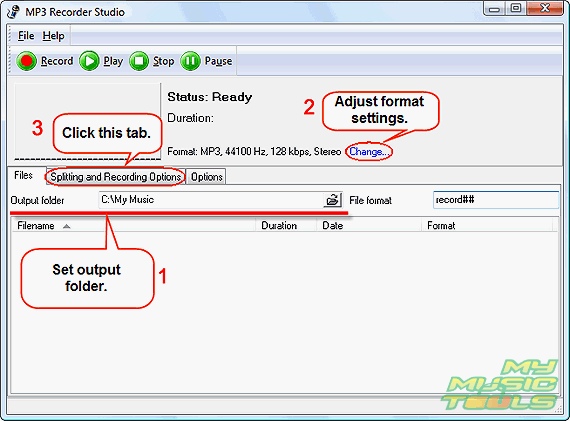 Firstly, select a folder where recorded files will be saved. Please note that you should have necessary permissions on the folder, otherwise the files won't be saved.
Then set up the output format by clicking "Change" (see the screen shot above). You can choose between WAV and MP3 with all variety of settings for these formats. If you don't know what to do, just use the default settings (MP3, 44100 Hz, 128 kbps, Stereo).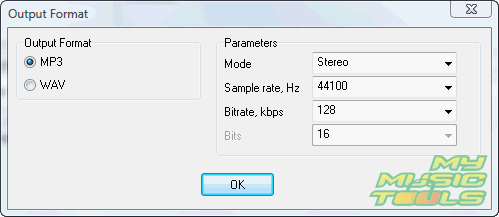 At last, click "Splitting and Recording Options" tab.
The lower part of the window changes. You will see the following: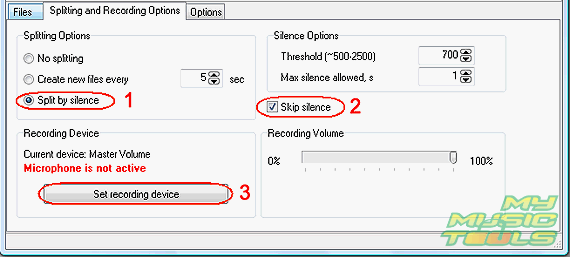 In the "Splitting Options" area, choose "Split by silence" (1). It will help you, if you intend to record more than one song.
Check "Skip silence" box on the right (2).
Finally, click "Set recording device" (you may skip this step and check if the program works anyway).
Step 3: Setting up the recording device.
It will bring you to the system recording device (it's part of Windows operating system). Please make sure to select the appropriate device.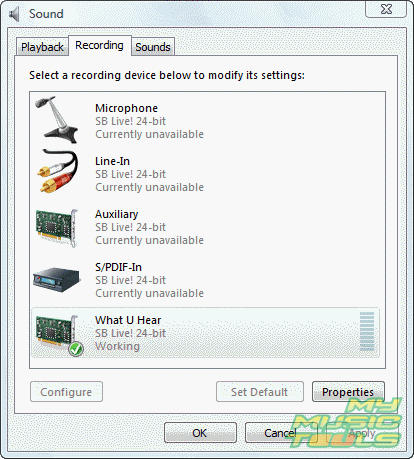 You can use "What U Hear" on a Sound Blaster card, or "Stereo Mix" on other cards, or just some WAVE device. If you can't find an appropriate device on Windows Vista, please make sure that all devices are listed. Right-click the list and check "Show Disabled Devices" and "Show Disconnected Devices" items in the context menu.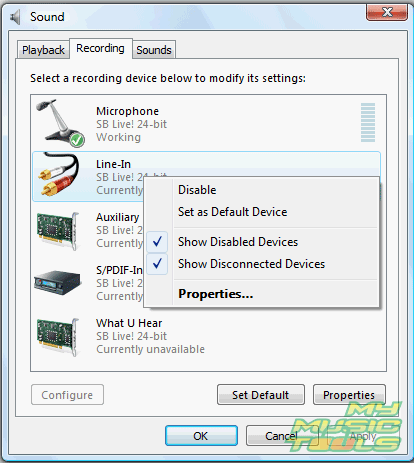 After choosing a device, click "OK" to close the mixer properties.
Step 4: Record your music.
In MP3 Recorder Studio, switch back to the "Files" tab. Click "Record".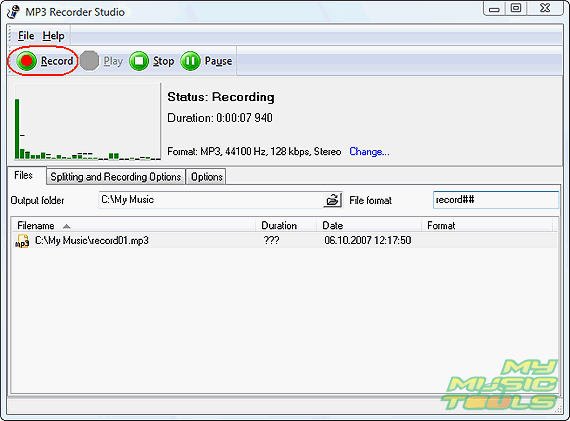 Now the program will wait for input. We have selected to skip silence, so it is a stand-by mode. Recording will be started immediately if any sound is detected.
So, now start the program that you use to play copy-protected audio. Make a playlist of the songs that you want to convert, then click "Play". MP3 Recorder Studio will automatically record every song into a separate file. You will be able to play the resulting files on any device that supports the format.
The trial version of MP3 Recorder Studio won't create files bigger than 60 seconds. If you are satisfied with the quality and functions, you can purchase the program and unlock it immediately with your registration data.