How to Create a Complete Music Album List For My Collection?
Introduction.
As many of us have a lot of things of some type, having a comprehensive list of items you own could be very useful in many situations. Especially when it comes to your music collection. Cases when you need to look through what CDs you have or when you just want to boast with your music library are numerous, but the thought of creating such list manually frightens us. It would require eternity, after all. As always, automated music manager tools can help us when the routine work needs to be done. Let's take the Report builder feature of Musicnizer as an example.
Step 1: Download and install the program.
Download Musicnizer to a known location. Run the downloaded setup package and follow its instructions to install the program.
Step 2: Start the program. Open Report builder.
Launch the music organizer and click the "Reports" button on its toolbar.

A new window will pop up showing the future printable report that will contain your added albums (We discuss how to add an album to your Musicnizer music database in another topic). You can scroll it through and decide if you want to make some changes.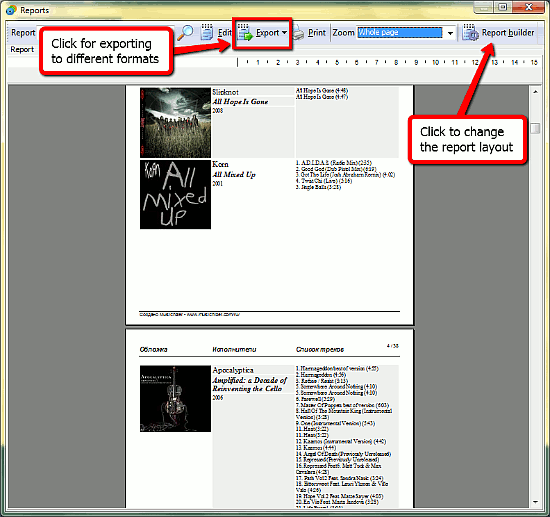 To adjust the report according to your needs, click the "Report builder" button. In the new window, various capabilities will be provided to customize your album collection report.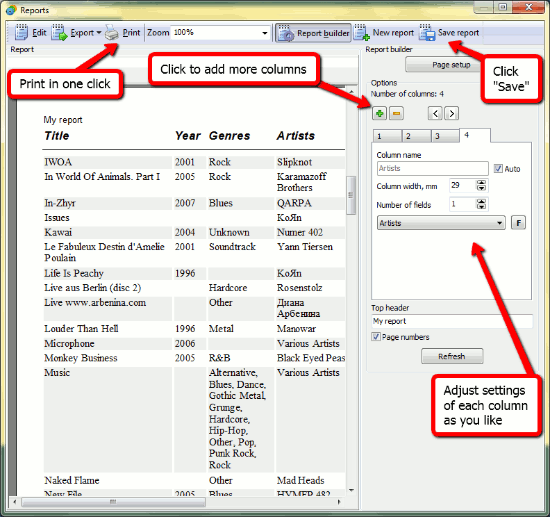 Here you can add more columns by clicking on the green "plus" button and change the view and contents of the column by choosing its size, name and font. After each change click "Refresh" to see how it looks on a A4 page. Here you can export your music report to HTML, TXT, Word, Excel format, as you could also do one step before. Click the corresponding button to choose the format and start exporting data from your music database.
Other output options will save the report to the Musicnizer format or print it. So click "Save report" or "Print" to save or print the modified report. By the way, if you don't want to make a report of your entire music collection simply apply filters in the music manager before going to reports. Only filtered entries will be included into your report.
Step 3: Music Statistics.
As the can see on the very first screenshot, the "Reports" menu contains another item, Statistics. The "Statistics" feature of Musicnizer is a tool that will help you to analyse the contents of your album library and to learn interesting facts about your music collection. Click "Reports" - "Statistics" to see diagrams showing different aspects of your music database: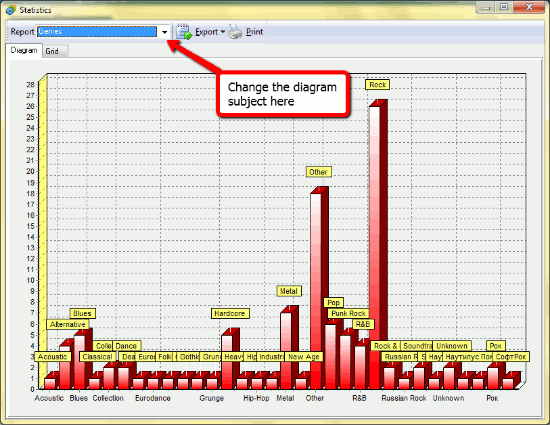 So, with Musicnizer you can easily create and print the complete album list with covers and other music facts, or use filters to separate your CD collection from your audio file collection.