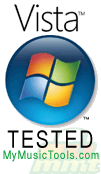 Are you satisfied with tunes that are offered by your mobile phone? Would you rather use something more personal? Something that would distinguish your mobile phone from thousands of others? A melody that you really love?
Mobile Ringtone Converter can take an audio file and convert it to a ringtone. It supports most common formats that are used with mobile phones. With its help you can easily convert WAV to AMR, or WAV to MMF, or WAV to AMRWB. The program is able to import MP3, OGG, WAV, AU, AIFF, AMR, AMR WB+ files and convert them to a format supported by your phone. It is possible to set desired quality for output files, getting a good quality ringtone along with acceptable file size. You can also mix tracks - either from different files, or just by adding sound from microphone, CD player, Line In, and other sources. As in most cases you don't need a complete song for a ringtone, the program allows you to extract exactly the part you like. Built-in waveform editor supports simple operations like cut, copy, delete, make silent etc.
If you don't know how to transfer a new ringtone to your phone, the program can provide a WEB/WAP server, so you don't need to search for specialized services on the Net.