How to get the biography of an artist?
Introduction.
We can hardly imagine our everyday life without music. Most of us collect albums, even if occasionally. But when the pure curiosity overgrows to a hobby, genre, album and artist name stop to be the maximum you need to know about your favorite music. At this point you'd like to dig deeper into details of your favorite artist's life and be more aware of everything that happens in the world of show business.
We will check how to download biography and save it together with information about corresponding albums from our collection using Musicnizer, a special music manager.
Step 1: Download and install the program.
Download Musicnizer to a known location. Run the downloaded setup package and follow its instructions to install the program.
Step 2: Start the program. Set it up to download biographies.
Suppose you've added several albums to this music organizer (We have already discussed how to add an album to Musicnizer in another tutorial) and want to read some facts from the life of the artist. Go to the album's page and look for a name of the artist.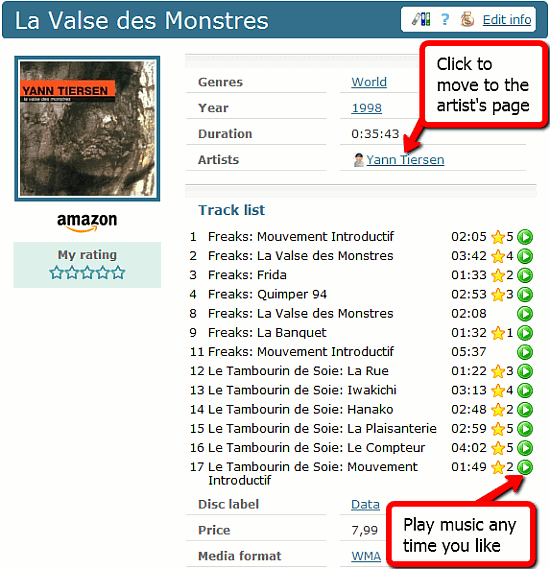 Virtually every entry is clickable. Click on the artist's name to go to the artist's page. You will not find much on the page yet, maybe it will be just the album that you've just browsed. Now click the "Download" button on the toolbar.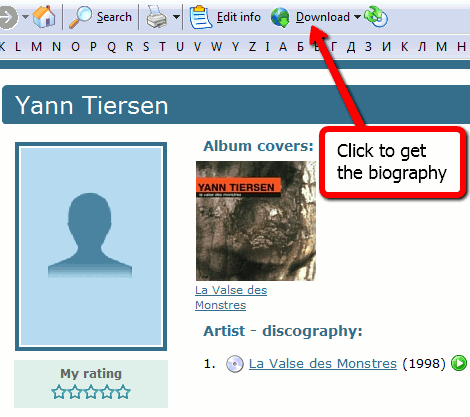 The program will download information about the artist from the internet. A window with downloaded details will be shown. Here you can edit, delete and add information. If you do not feel like changing anything right now, just click "Save".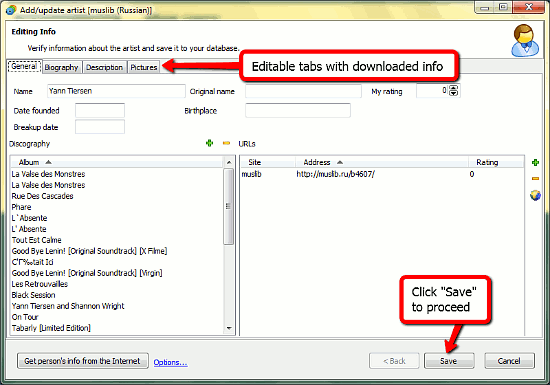 The window is closed, and now we can see a pretty detailed page containing photos of the artist, biography, discography, and other important facts.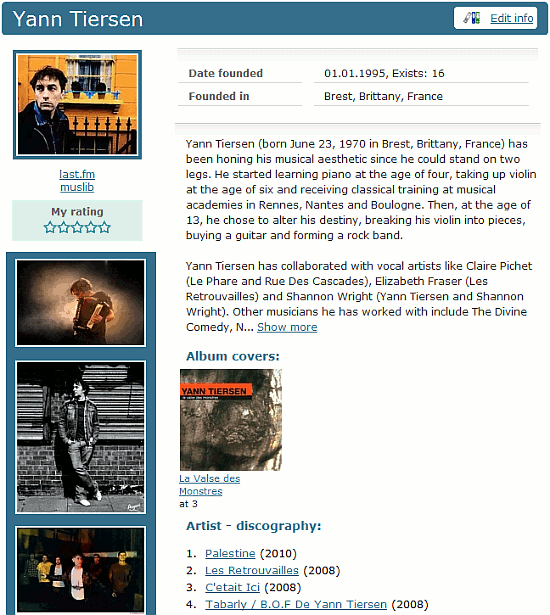 You can adjust what should be downloaded. Click "Tools" - "Options" - "Download options" tab to enter the menu where you specify what facts, pictures or additional information you want to have downloaded. These flexible options help you to reduce download time and traffic, or, the other way around, download more details, photos etc.
Step 3: Adding an artist.
There is also another way to get information about an artist. On the toolbar, click the "Add artist" button. A new window will appear: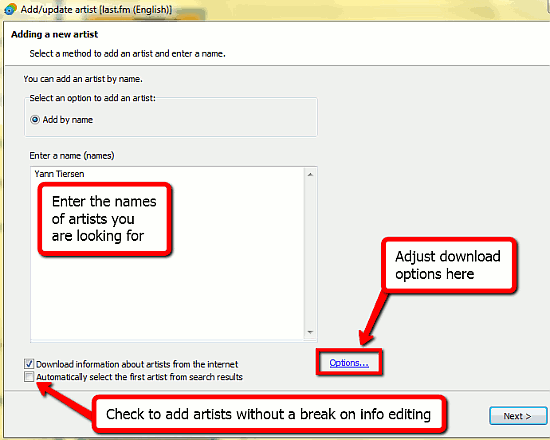 Enter some name(s) here and click "Next" to get biography of the artists along with other details.

Related:
How to extract MP3 tags from filenames?
How to download MP3 tags for free?
How to download MP3 lyrics for free?
How to remove music duplicates?
How do I find duplicates in my music collection?
How to rename MP3 files using ID3 tags?
What ID3 tag editor can edit WMA tags?
How to download MP3 album art?
How do I get ID3 tags from the Internet?
How to download lyrics for songs?
How do I tag MP3 files with ID3 data using filenames?
How do I sort MP3 files? I want to organize my music collection.
How to keep track of my borrowed music albums?
How to make a catalog of my music collection using album barcodes?
How to get the biography of an artist?
How to manage my music collection on a Dune HD media player?
How to Create a Complete Music Album List For My Collection?
How to organize my music collection?
How do I organize my music collection?
How do I remove duplicates on my computer?
Advanced MP3 Catalog Pro 3.28 review
Media Catalog Studio 4.5 review