How can I watch online TV?
Introduction.
The convenience of being able to watch TV online while working on the computer or to watch an episode of your favorite TV show when you are away from home sounds really tempting. Online TV broadcasting of usual channels and internet-only channels eliminated the need to sit in front of your TV set and to be bound to one location. Now you can freely travel to other countries, visit your friends, have a time in a cafe with Wi-Fi and still watch TV channels online in your language as though you were in your bedroom. Many channels are broadcasted on their own websites, but surfing the web in quest for a channel is not really an option. How can we watch online TV on our computer? The answer is simple: a software tool capable of playing online streaming videos. Let's take a look on how it's done with one of the most prominent programs for online TV watching, anyTV Pro 5.1. This online TV channels browsing tool offers numerous advantages compared to other similar products and enables you to watch online TV stations and other video channels, filtering the content by countries.
Step 1: Download and install the program.
Download anyTV Pro 5.1 to a known location. Run the downloaded setup and follow its instructions to install the program.
Step 2: Start the program. Choose a country.
Launch anyTV Pro. The main window will be shown: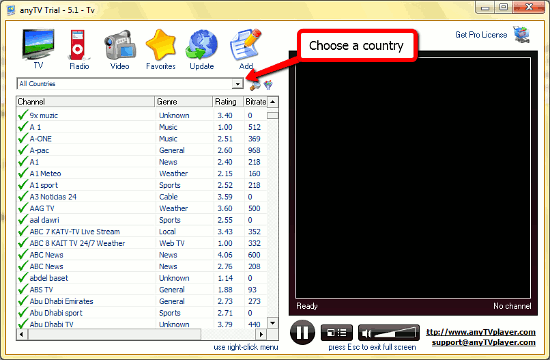 Here you can see the whole list of internet TV channels for all countries. This list can be updated by pressing the "Update" button, thus allowing you to have only fresh and working channels in the program. So let's click on the drop-down list of countries and choose "United States" for this review. The list of online TV channels below will change and all channels for USA will be shown. Double-click any TV channel's name to begin watching it on the "screen" to the right.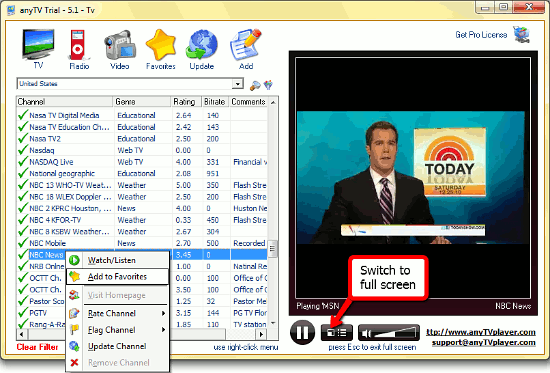 We have chosen NBC News, and after a second of buffering the broadcasting began. As you can see, working with anyTV Pro is pretty staightforward and intuitive.
Sorting can be applied by clicking on a column's name. All online TV channels will be sorted by name, genre, rating, bitrate, or comment that you can provide in the last column.
Suppose you liked an online TV channel and want to mark it somehow in order to find it next time quickly. Simply right-click on the channel name. A menu will pop up. Here you can choose to add the online TV channel to the favorites list. After doing so you will be able to find the channel by clicking the "Favorites" button on the upper toolbar. It is also possible to rate a channel and later sort online TV channels by rating. Flagging a channel as "Works fine", "Not working", "Wrong info", "Duplicate" or "Spam" will display the corresponding icon to the left of its name. "Update channel", "Remove channel", "Visit homepage" options are self-explanatory.
After having selected an online TV channel, switch to the Full screen mode by pressing the button below the program screen and enjoy watching!
Although we are discussing online TV here, I'd like to say a few words about such features of anyTV Pro as online radio playback and video channels watching. Click on the corresponding button on the upper toolbar and you'll be taken to the list of radio channels or video channels, respectively. The navigation is the same as in the online TV channel list, playback is as easy, too. Let's relax a little bit, listening to "Smooth Jazz"...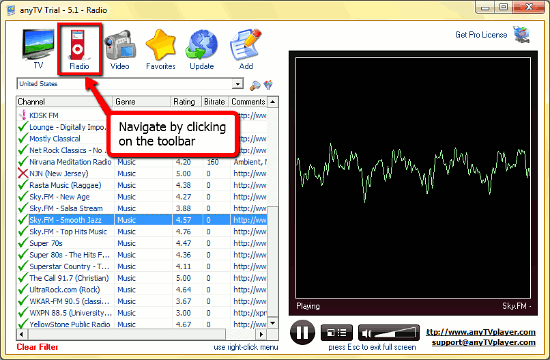 So you can watch online TV and listen to internet radio with a single tool. The trial version includes 70% of all available TV/radio/video channels, a registration reminder splash screen, and limited access to channel list updates. If you like the features, you can remove all limitations by registering the program.