How to convert multiple MIDI files into an MP3?
Introduction
Converting MIDI-files into mp3s might sound like a simple task at a first glance, but the key to success is to find an efficient and easy-to-use converter.
MIDI Converter Studio is one of the best converters for this job. It has a user-friendly interface and a number of universal features that will give you maximum freedom and more control over the output audio files, compared to other software within the similar price range and which are equally easy to operate.
Step 1: Download and launch the program
Download MIDI Converter Studio, launch the installation wizard and follow the instructions. Note that there is also a one-click installation mode.
Step 2: Add MIDI files
To add several MIDI files either drag and drop them in the program window or click on the 'Add files' button on the toolbar on top.
Once the files are added they will be displayed in the main window. To delete some click on the 'Remove' button on the toolbar.
Second, select either the default or a custom output folder in the menu below the main window.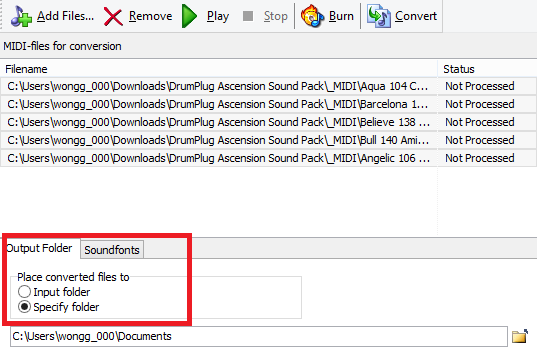 Step 3: Convert files
Select 'mp3' in the 'Output format' menu on the right. You can also add ID3 tags, such as Artist and song names in the menu below.
Click on 'Convert' when ready.
Once the files are converted MIDI Converter Studio will offer you to open the output folder.