Play MIDI files on your iPod!
Introduction.
iPod is a tremendously popular portable player from Apple. In fact, there are many different products using this name: you can find iPod nano, iPod shuffle, iPod touch, iPod classic, and different generations of those. All iPods are capable of playing sound, however, the MIDI format is not supported by these devices directly.
If you want to play MIDI files on your iPod, you can convert MIDI to MP3. This will have several other benefits: you will be able to play the converted files on any other device (MP3 is one of the most widely supported audio formats), and sound quality will not change from one device to another.
We will discuss how to prepare MIDI files for an iPod using MIDI Converter Studio.
Step 1: Download and install the program.
Download MIDI Converter Studio to your computer and start the setup wizard. Follow its instructions to install the program.
Step 2: Start the program. Select MIDI files.
Launch the program. Its main window will be shown: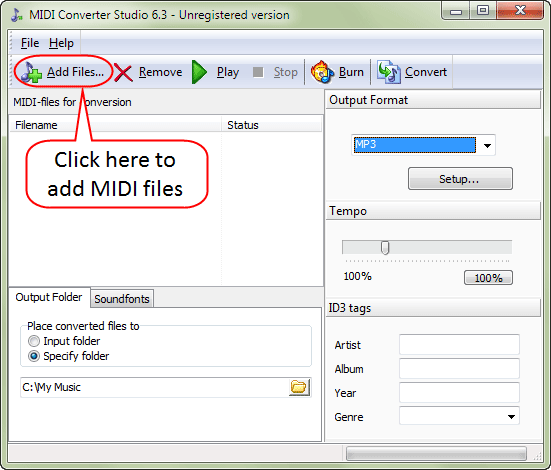 Click the "Add files" button on the toolbar. The usual "Open file" system dialog will appear: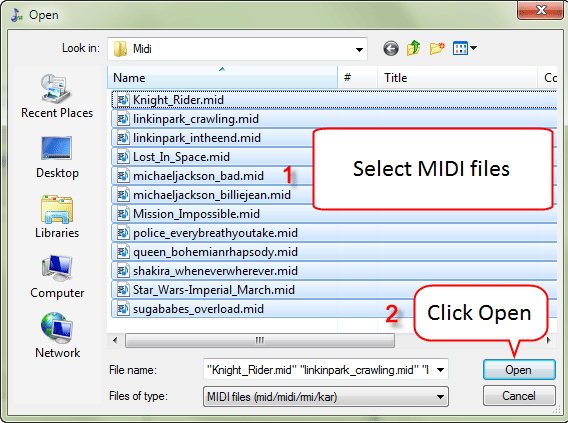 Using it, you can browse your folders and files. Open the folder containing MIDIs that you want to play on your iPod, select the files (Ctrl + "A" will select all files in the folder) and click the "Open" button.
Alternatively, you can Drag&Drop MIDI files into MIDI Converter Studio from Windows Explorer without using the "Add files" button.
Step 3: Prepare MIDIs for your iPod.
Now your MIDI files are shown in the conversion list of MIDI Converter Studio.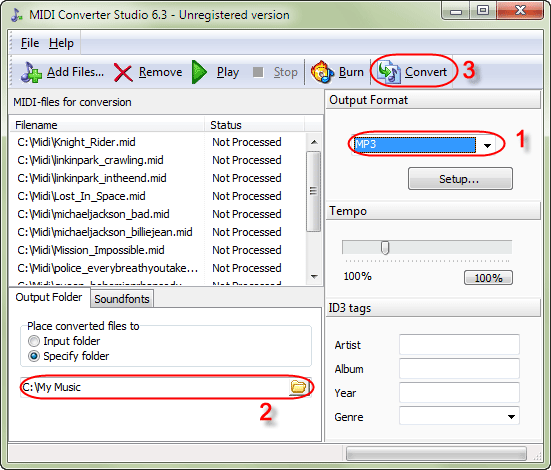 As we have already mentioned, the best way to play MIDI on your iPod is to convert such files to the MP3 format. So, let's select "MP3" in the "Output format" area (1).
In the lower part of the window, there are two tabs: "Output folder" and "Soundfonts". Open the "Output folder" tab and choose a folder (2). This is where the converted MP3 files will be saved. You can also use the same folder where your MIDI files are stored ("Input folder").
In the "ID3 tags" area, you can enter some information to save to ID3 tags of the converted MP3 files, this makes sense only if the information is the same for the group of MIDI files that you are about to convert.
Finally, click the "Convert" button on the toolbar (3).
MIDI Converter Studio starts converting your MIDIs, changing their status from "Not processed" to "Processed" as it goes down the list. Finally, the program shows the following window: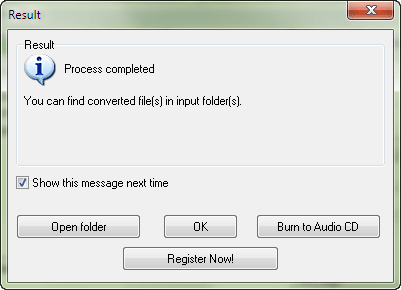 Click the "Open folder" button to open the output folder. Now you can copy the converted MP3 files to your iPod or another device and enjoy your music anywhere.
The free trial version of MIDI Converter Studio can convert only 60 seconds of each MIDI file. If you like the program, you can register it and remove all limitations.