How do I convert KAR to MP3?
Introduction.
KAR is a MIDI Karaoke file format. KAR files usually contain MIDI music plus synchronized lyrics (texts). Like MIDI files, KAR files are small, but they greatly depend on the sound card capabilities. They sound differently on different systems, and most of devices do not support them at all.
If you want your KAR files to produce high quality sound on every system, you may consider converting KAR to MP3. MP3 files are larger, but they always sound the same and are widely supported by all kinds of software and hardware.
We will discuss how to convert KAR to MP3 using MIDI Converter Studio. This program allows creating quality sound even on systems with a poor sound card by using SoundFonts.
Step 1: Download and install the program.
Download MIDI Converter Studio to a known location. Run setup and follow on-screen instructions to install the application.
Step 2: Start the program. Select KAR files to convert.
Launch the KAR converter. On the toolbar, click "Add files".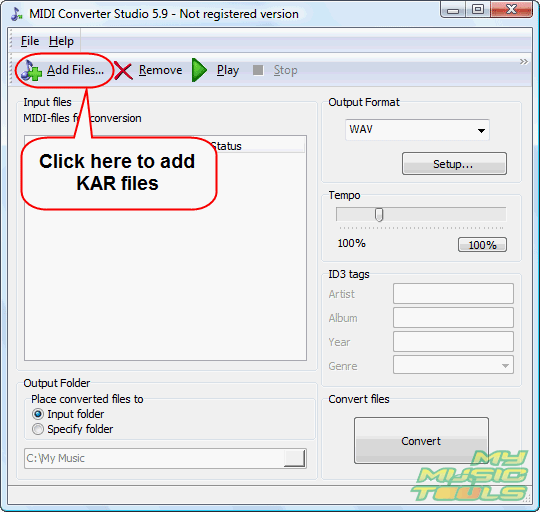 This will invoke a usual "Open" dialog.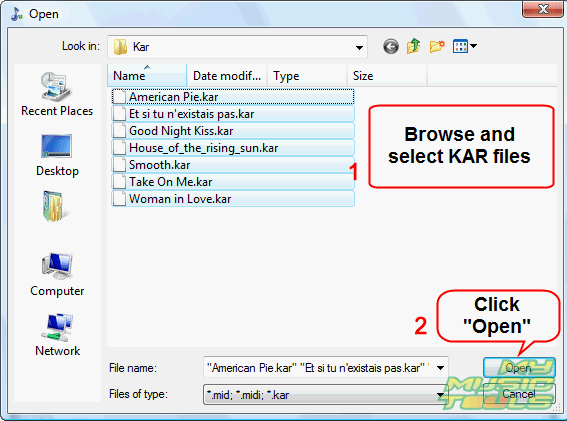 Browse to the location where your KAR files are stored, select those that you want to convert to MP3, click "Open". You can select multiple files by holding Shift or Control keys on your keyboard while clicking the files.
Step 3: Set output format and folder. Convert KAR to MP3.
The files will be added to the list.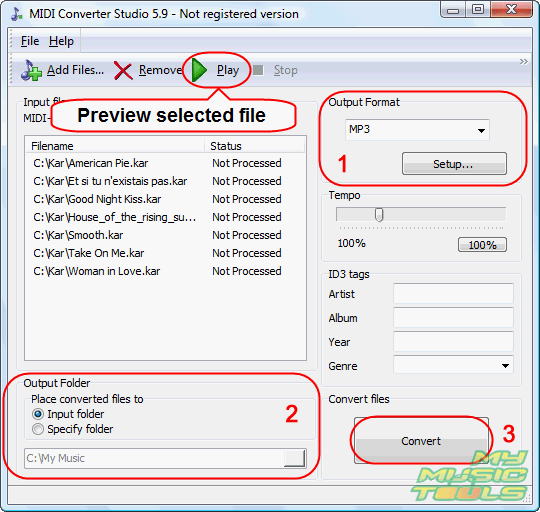 You can preview them. Click a file from the list and then click "Play" on the toolbar. As MIDI Converter Studio supports SoundFonts, you can make your files sound differently by downloading and using different SoundFonts. The built-in player allows previewing without converting.
As next, set output format to MP3 (1). MIDI Converter Studio can convert MIDI and KAR files to MP3, WAV, WMA, and OGG. To reach advanced format settings (bitrate, frequency etc.), click "Setup" in the same area.
In the "Output folder" area, choose where to save the converted files (2). You can let the program save MP3 files in the same folder where your KAR files are stored, or you can select any folder on your computer.
Finally, click the big "Convert" button in the right lower corner (3).
The trial version of MIDI Converter Studio can convert up to 60 seconds of a KAR file. If you are satisfied with the quality and features, you can register your copy online and unlock it on the spot with the provided data.