How do I convert DVD to AVI?
Introduction.
AVI is a container format for audio and video streams. 'Container' means that an AVI file can contain video and/or audio encoded with one of suitable codecs. Among most popular video codecs are DivX and Xvid, for audio streams MP3 and AC3 are normally used.
You may want to convert DVD to AVI to make a backup of some movie and save space on your hard drive, or to create a copy that can be played by a mobile device. AVI movies usually have smaller size while preserving most of the quality.
We will consider how to rip a DVD movie into AVI format with help of YASA DVD Ripper Platinum. We will use DivX as output codec, because DivX movies are readily played by modern DVD players.
Step 1: Download and install the application.
Download YASA DVD Ripper Platinum to a known location. After download is complete, launch setup and follow instructions.
Step 2: Launch the program, select output profile.
Launch the DVD ripper. On the toolbar, click dropdown menu for output profiles: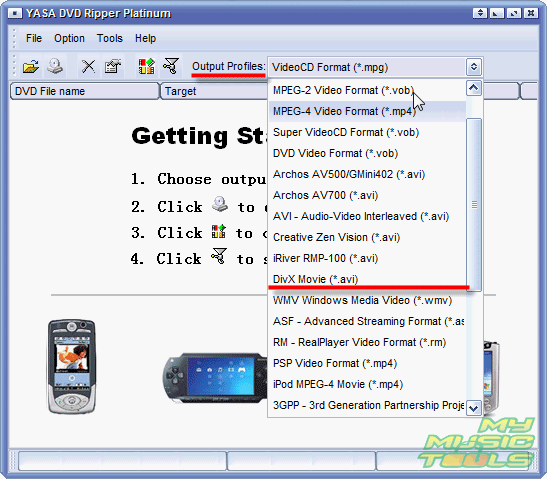 Select "DivX Movie (*.avi)".
Step 3: Insert DVD movie, choose settings.
Insert a DVD movie into your DVD device. Wait a while until the disc is recognized, then click "Open DVD disc" button.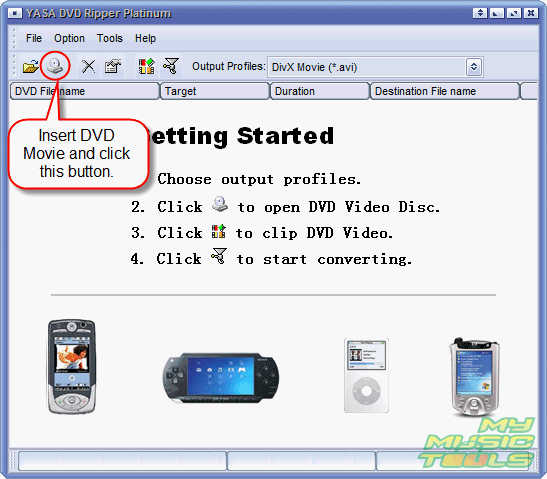 Simple Wizard pops up, allowing you to choose movie (DVD can contain several), audio track, subtitles etc.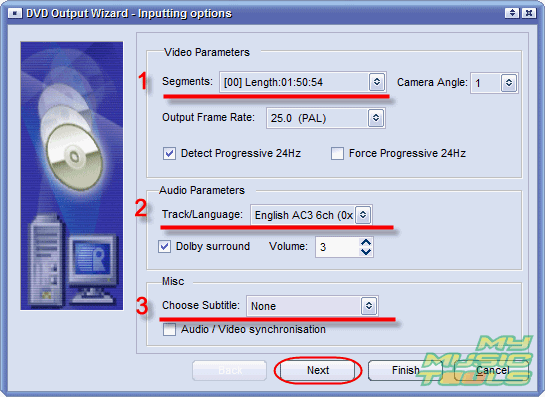 Usually YASA DVD Ripper Platinum detects everything correct, so you should simply click "Next". However, if you want to set audio track to another language (if available), or to encode the movie with subtitles, choose corresponding options.
After clicking "Next", you will get the following window: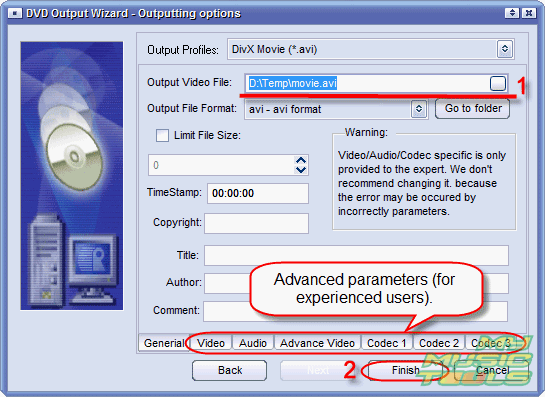 Here, don't forget to set output folder and filename (1), otherwise defaults will be used (a folder in your home directory and filename taken from DVD IFO file). If you already have some experience with video editing, feel free to fine tune the advanced settings, but then don't blame the developers of YASA. Advanced settings allow you to do with video virtually anything.
You can also limit size for output file, so that it fits onto some media.
Click "Finish" to exit wizard.
Step 4: Rip DVD movie.
The program doesn't start converting immediately. It just closes wizard and adds the movie into its job list.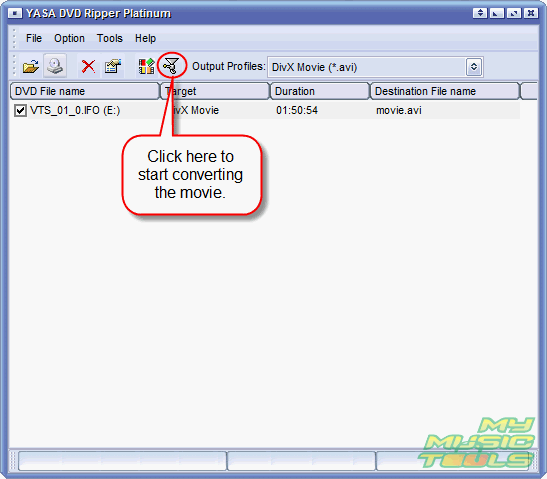 Verify the basic settings and click "Convert All Checked DVD Video" button.
That's where the program starts ripping DVD video. It will take some time, but you don't need to wait for this automatic process to finish. Just switch to other tasks.
Trial version of YASA DVD Ripper Platinum allows you to convert only 1/3 of the whole movie. If you are satisfied with quality and features, you can purchase the full version and remove all restrictions.