How do I listen to online radio?
Introduction.
It looks like usual broadcasting radio stations are slowly becoming obsolete. Since internet is almost everywhere now, internet radio is getting more and more popular. Its advantages are obvious: categorization by genre, absence of commercials, better sound quality, and many others. So how can we listen to an online radio station easily?
Here we will try listening to online radio using a special program, Radiotracker. It is useful tool for listening, saving favorite stations and even recording the broadcast.
Step 1: Download and install the program.
Download Radiotracker to a known location. Run the downloaded setup and follow its instructions to install the program.
Step 2: Start the program. Finding online radio station.
Launch Radiotracker. The main window will be shown: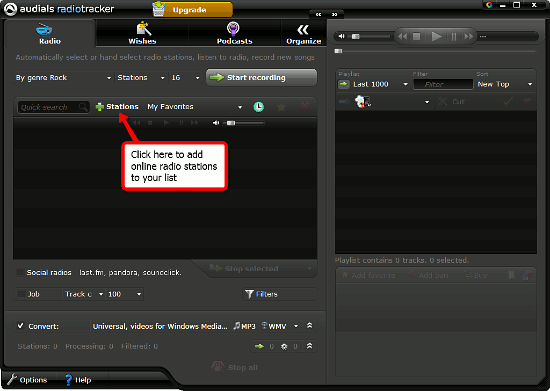 The central area of the program window is empty now. We should add some stations to our "Favorite" list. To do so, click "+Stations" on the toolbar.
A new window will appear with the list of online broadcasting radio stations: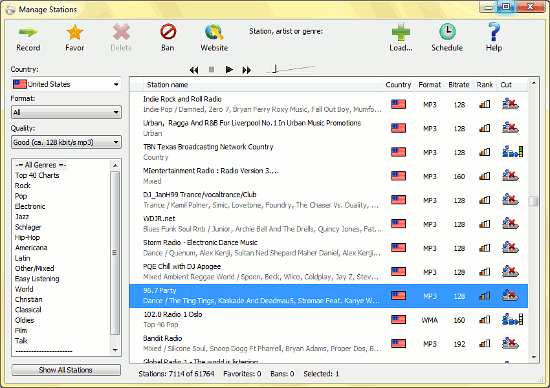 Select the preferred country from the drop-down list on the left. Genre and quality can be selected here, too. The list is updated dynamically, and after selecting a station, simply double-click it. The internet radio starts playing, and right from this menu you can start recording it, just click the "Record" button in the upper left corner of the window. Here you can add radio stations to your favorites, too. When all is done, close this window.
Step 3: Listening to online radio.
The selected and added to favorites stations appear in the list, and you can control the playback using the mini player in the upper right corner.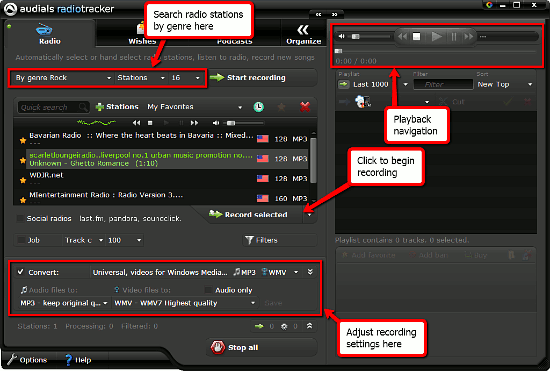 Searching for more radio channels by genres is possible using the special "List menu" where we choose criteria and get quick results.
In the lower part of the window we can set recording options, and the "Record selected" button below the stations list will start recording the selected online radio station.
The program has a lot of other features, for instance, it can organizer your records and play regular podcasts. Upgrading to the premium version adds more functionality still, but the free trial version is sufficient for convenient listening to an online radio.