How do I split AVI video file?
Introduction.
You may want to split an AVI movie in a number of cases. Most common is the one when your file doesn't fit onto some media. For example, if you have a 900 Mbytes video file and want to burn it to a usual 700 Mbytes CDs, you will need some movie cutter. Usual burning software can't deal with the problem.
Another case would be when you want to trim unwanted scenes, or just to extract only some parts of your own movie (to email them to your friends, for example).
With an appropriate tool the task becomes easy. Let's take SplitMovie, a popular and simple video splitter, and split some movie to see how it goes.
Step 1: Download and install SplitMovie.
Download the program to a known location. Launch setup and follow on-screen instructions to install the software.
Step 2: Start the application. Open your AVI.
Launch SplitMovie. The main window of the program will be shown: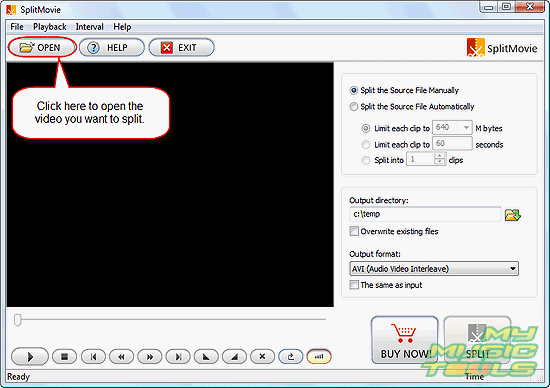 Click "Open" button in the left upper corner. Usual "Open" dialog appears: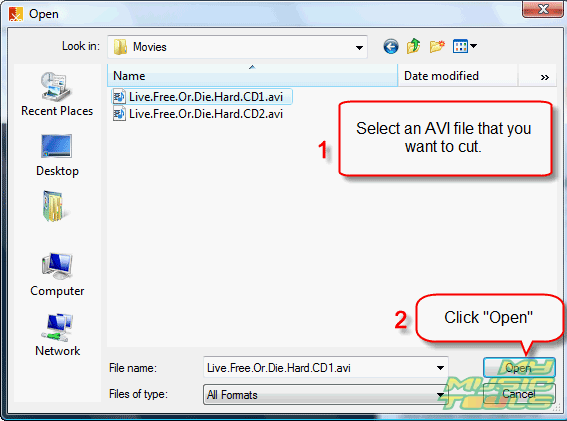 Browse to your video files, select an AVI, click "Open".
Step 2: Choose parts to extract. Split the movie.
Now you can preview the file, set cut points either manually(1) or automatically(2).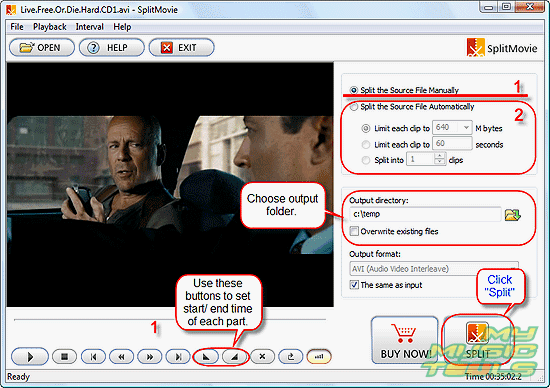 Both ways of splitting are very simple. With manual splitting, choose the corresponding option on the right pane, then use slider to browse the movie. Click the highlighted (on the screen shot) buttons to set start/ end time for each part. If you need to split the movie into two parts at a custom point, you should set one start point at the very beginning, then browse to the cut position, set end point for the first part and start point for the second one. Finally, set end point for the second part at the very end of your movie.
Automatic splitting allows you to split your movie by time, or by size, or by number of parts. So, if you want your movie to fit onto a CD, select "Split the Source File Automatically" option, then "Limit each clip to 700 Mbytes".
Set a folder for output files. Click the large "SPLIT" button in the right lower corner of the program's window to split AVI video. Wait till SplitMovie finishes splitting (it may take some time, as the program copies a large amount of data), then find results in the specified folder.