How to convert DVD to RM (RealMedia Video)?
Introduction.
RM is a multimedia container format from RealNetworks. It is quite popular on the internet where it is used for streaming audio and video. Both RM streams and RM files can be played with RealPlayer developed by RealNetworks.
You can convert DVD to RM using a program like YASA DVD Ripper Platinum.
Step 1: Download and install the program.
Download YASA DVD Ripper Platinum to a known location. Run the downloaded setup package and follow on-screen instructions to install it.
Step 2: Start the program. Open your Video DVD.
Launch YASA DVD Ripper Platinum. Insert your Video DVD.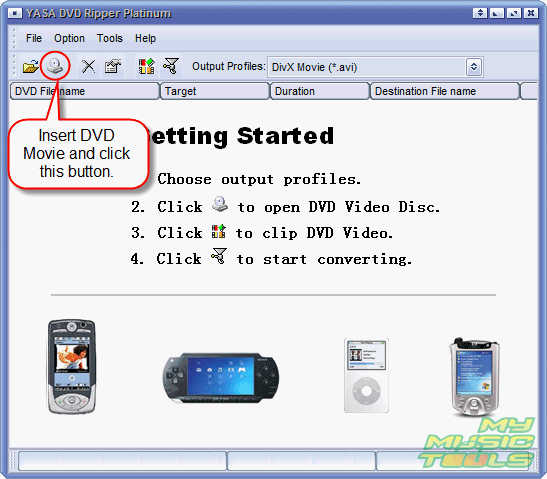 On the toolbar, click the "Open DVD disc" button.
Step 3: Select video title, audio track, subtitles.
A simple wizard will pop up.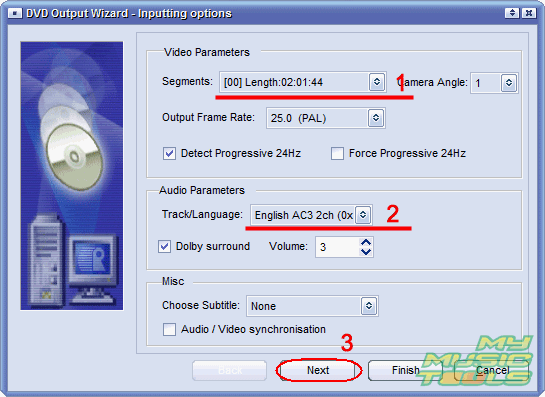 In the "Video parameters" area, select the desired title (a Video DVD can contain quite a number of them) from the "Segments" dropdown menu (1).
In the audio parameters area, select preferred audio track (2).
If necessary, you can also add subtitles to your ripped video, but we leave the field with "None".
Click "Next" to continue (3).
Step 4: Set output filename and format.
The second page of the wizard suggests that we set some output options.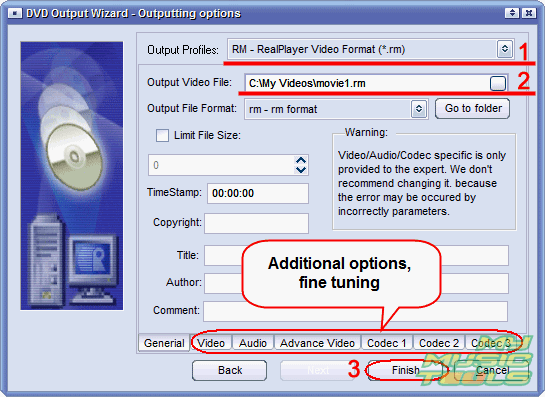 First of all, we want to rip DVD to RM, so let's choose this format from the topmost dropdown list ("Output profiles") (1).
As next, decide in which folder you'd like to save the converted video. Set a filename (2).
Experienced users can also play with advanced audio and video settings, but we just click "Finish" here (3).
Step 5: Rip DVD to RM.
The wizard is closed. We are back to the main window of the RM converter.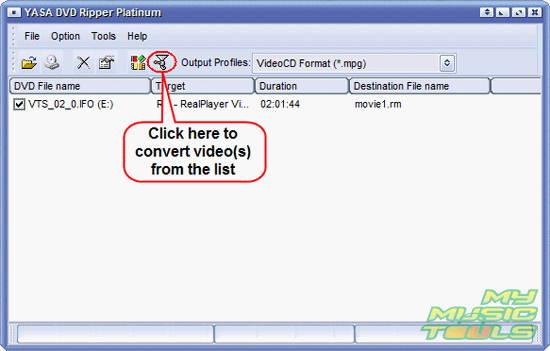 However, now there is a task in our list. We can add more tasks, if necessary. This feature allows doing batch conversions, but right now we will continue with the single task.
Click the rightmost button on the toolbar to start ripping your Video DVD to RM.
The trial version of YASA DVD Ripper Platinum converts only 1/3 of a title. If you are satisfied with the quality and features, you can register your version (either online or offline) and remove all limitations.