How to copy DVD movie to hard drive?
Introduction.
Hard drive disks are getting more and more capacity, so storing such big chunks of information as video files becomes pretty affordable. While you may still purchase movies on DVD and Blu-ray discs, inserting such discs every time you want to remind yourself of something in the movie is not always what you'd like to do. Besides, DVDs may become scratched, making the complete video inaccessible.
On the other hand, there are numerous hardware video players available on the market, capable of playing all sorts of video files from hard drive disks and other storage media.
So, quite a natural solution would be to back up DVD movies to a hard drive disk: you will keep the original DVDs intact (that is, without scratches) and will be able to access your movies any time by selecting any of them on your TV screen with your remote.
We will discuss how to copy a DVD movie to your hard drive easily with Plato DVD Ripper.
Step 1: Download and install the program.
Download Plato DVD Ripper to your computer and run the downloaded file to start installation. Follow on-screen instructions to install the DVD ripper.
Step 2: Start the program. Insert your DVD movie.
Start Plato DVD Ripper. The main window will be shown: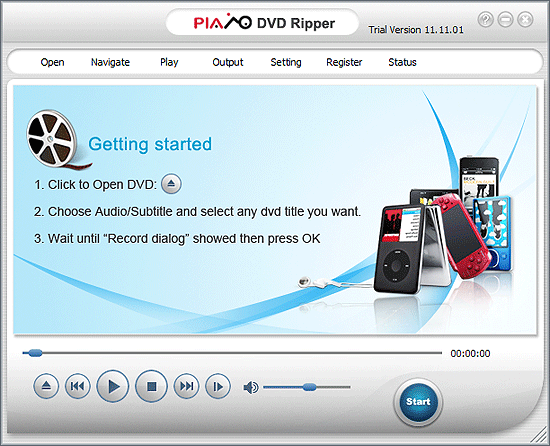 You can see a short "Getting started" guide directly in the window. The first step suggests that we should click the leftmost button on the lower part of the window to open our DVD. Let's do that.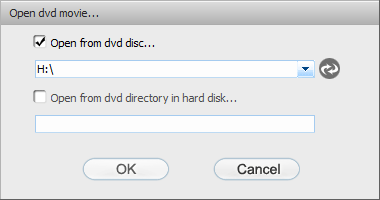 A new window appears indicating that it waits for a Video DVD to be inserted. Insert a DVD movie (the title of your DVD will automatically appear in the corresponding field of the above window) and click "OK".
Step 3: Select output settings for your video file.
As next, the program will show a window with various pre-installed profiles: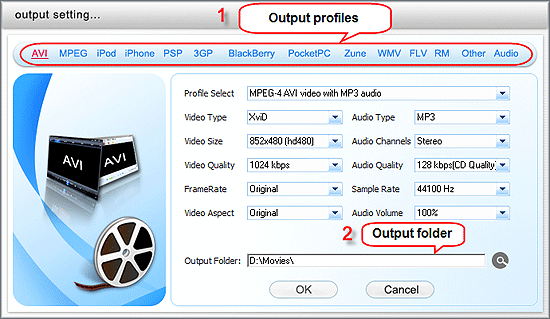 You can simply click a profile (1) to select all associated settings automatically. We have selected AVI. Advanced users can adjust all sorts of settings. The most important settings are "Video size" and "Video quality", they affect file size and quality of picture. While Full HD seems tempting, you should take into account that DVDs normally offer resolutions like 720*480 and 720*576.
In the lower part of the window, choose a folder (2). This is where your converted videos will be saved. Confirm with "OK".
Step 4: Copy DVD video to hard drive.
Plato DVD Ripper is ready to convert your DVD to a video file. One final step, though: you can select an audio language (the default one is selected automatically) and a subtitle track: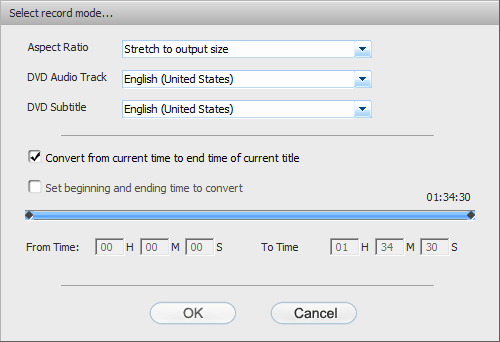 This step also allows you specifying start/end time of the segment to convert, if you do not intend converting the complete DVD movie.
If everything is correct, just confirm with "OK". The DVD Ripper starts converting your movie: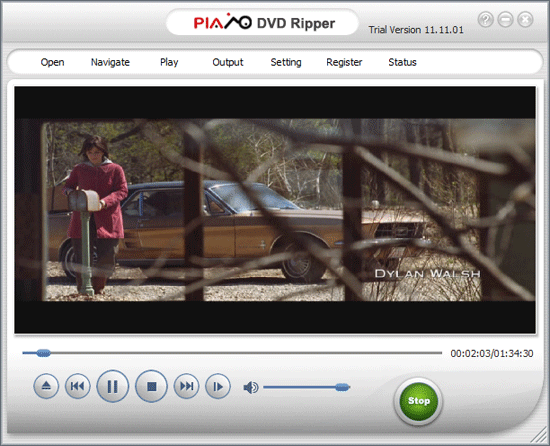 You can cancel the process by clicking the "Stop" button in the lower part of the window.
On the right, there is an additional small window showing various details of the process: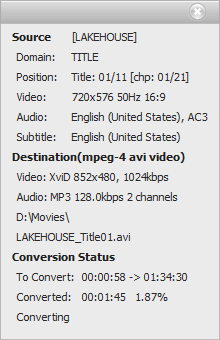 Plato DVD Ripper will convert your DVD to a video file, saving the latter in the output folder.
The trial version of the program will convert 15 minutes of the video. If you like the program and its features, you can register it and enjoy copying your DVD movies to a hard drive disk easily.