How to record video from a TV-tuner?
Introduction.
TV-tuner, or a TV-card, is a device that allows users to watch TV on a computer. There are different types of TV-tuners on the market, including internal (an extension card that should be plugged into a free PCI slot inside the computer case) and external ones (a box that can be connected to a computer through USB, Firewire, or any other appropriate interface). Sometimes TV-tuners are built into graphic cards, and thus they cannot be perceived as separate devices. But their function remains just the same: they should receive TV signal and decode it into the form suitable for monitors or other devices connected to the computer.
TV-tuners support all features of a TV-set. The user can easily switch between different channels (almost all TV-tuners come with a remote control), adjust color settings, view TV-text information etc. But they also provide additional functionality: the user can record video from TV tuners without purchasing additional devices (like VCR or DVD recorders). A TV show can be encoded on the fly and recorded to the hard drive in a highly compatible form of AVI file.
You can record TV shows on your computer with the help of AVS TV Box.
Step 1: Download and install the program.
Download AVS TV Box to a known location. Run the downloaded setup package and follow on-screen instructions to install the application.
Step 2: Start the program. Scan for TV channels.
Launch AVS TV Box. The program should automatically detect your TV tuner. If you get a message that no TV tuner is found on your system, make sure that drivers for the device are installed on your system. If necessary, install drivers from the CD/DVD that comes with your TV tuner, or download the most recent drivers from the manufacturer's website.
Right click the TV window to get the context menu:

Select "Settings". The following window will apper: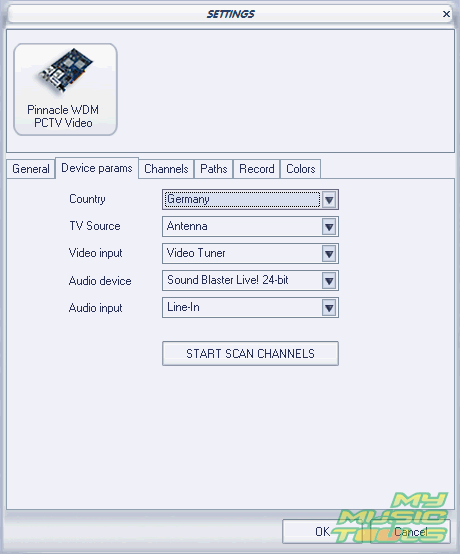 AVS TV Box automatically detects a number of parameters on you system, like country, your sound card etc. If some of the parameters are not correct, you can adjust them on the "Device params" tab.
Click the "START SCAN CHANNELS" button and follow instructions to detect TV channels. Scanning will take some time, depending on the method you choose. It is recommended to let the program add channels that it finds to the favorites list automatically.
Step 3: Watch and record TV shows.
After the TV viewer has detected channels, you can review other tabs of the "Settings" window. On the "Paths" tab, set up folders where recorded shows should be saved.
On the "Record" tab, choose quality for recorded TV shows: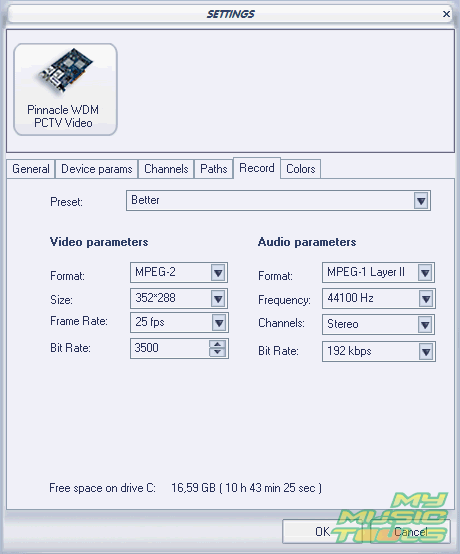 When finished, click "OK" to accept all changes and close the window.
Now you can select channels from the Favorites list to watch them: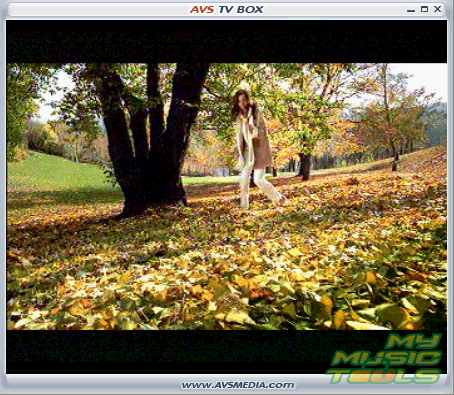 To record what you see, click the red dot button in the controls area:

But VCR and DVD recorders allow to record TV shows on schedule, so that you don't need to be home when something interesting is on air. AVS TV Box also has this functionality. Again, right-click the TV window to get the context menu. Select "Schedule".
The following window will appear: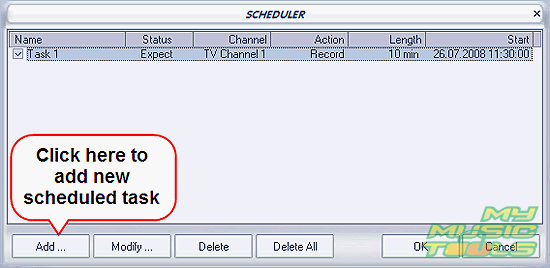 Click "Add" to create a new task for the scheduler.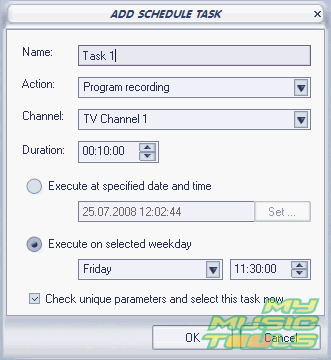 You can specify a name for the task to recognize it easily in the scheduler's list. Select the desired action and TV channel to record. Set duration, date and time. You can schedule a task to be executed only once, or repeatedly on a certain weekday. Add as many tasks as needed to cover all TV shows that you want to record.
The trial version of AVS TV Box adds a logo to recorded videos. If you are satisfied with the functionality and features, you can register your copy and remove all limitations.
Related
[an error occurred while processing this directive]