How to use computer as an instrument tuner?
Introduction.
For many musicians, tuning the instrument before playing is a common routine. But modern technologies allow us to have all-in-one tools almost for everything. Music is not an exception. And now you do not need to bring metronomes and tuners in order to prepare for a performance, computer can do pretty much everything you need in this case. Here we will discuss how to tune an instrument with your computer and a special piece of software called Chromatia Tuner.
Step 1: Download and install the program.
Download Chromatia Tuner to a known location. Run setup and follow on-screen instructions to install the application.
Step 2: Start the program. Set up the tuning options.
Launch the instrument tuner. The main window will be shown: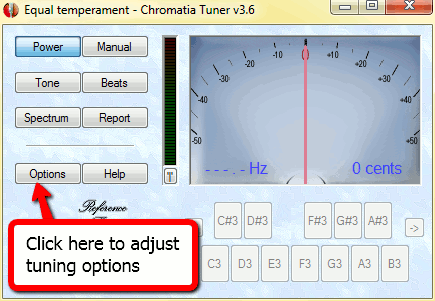 You can try playing music and the tuner's pointer will jump showing you the frequency of the produced sound, if your microphone is connected and on. Program is ready for use right from the start, but before we work with it, let's look at some settings. Click "Options" on the toolbar. A new window will show up: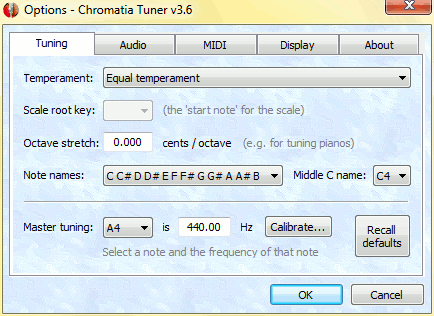 On its "Tuning" tab, the main settings for instrument tuning are displayed. Here we can define temperament, how notes are to be shown, and other important calibration criteria.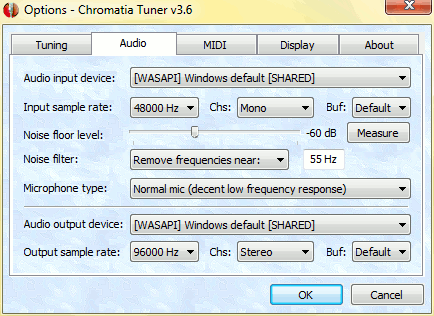 The "Audio" tab allows us to select a sound input device, so connect a microphone to your computer and select it from the "Audio input device" list. It will be used by the tuner program for "listening" to your instrument. Noise filtering and output settings can be adjusted here as well.
Other tabs contain settings for MIDI and display layout, but they are not so important for us right now, so let's just skip them.
Click "OK" to return to the main program window.
For instrument tuning, some additional info can not be excessive, and Chromatia Tuner provides it with graphics and reports. Click the "Spectrum" button and, in the lower part of the window, you will see the waveform of your sound jumping as you play.
Also you can turn on "Reports" and make automatic sound measurements for some period or instantly.
Step 3: Start instrument tuning.
Simply start playing your instrument and watch the musical tuner work.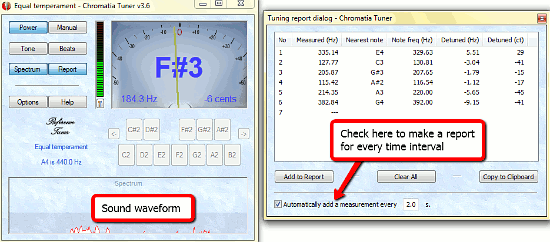 If you'd like to adjust some advanced settings, press the "Manual" button and try using "Tone", "Beats" options.
The trial version of Chromatia Tuner works only for 10 minutes at a time. If you like the program, you can register it and remove all limitations.