How do I play any audio file regardless of its format?
Introduction.
There are many audio formats, each having its own advantages and drawbacks. Many people prefer to keep their music collections in such popular formats as MP3, WMA, AAC, M4A, OGG etc. Others collect files in FLAC, APE, MPC, WV. These are just the most popular audio formats, with the difference that the first group contains so called "lossy" formats, while the second one represents "lossless" audio formats (of course, WMA and M4A may also contain lossless audio, but for the sake of simplicity we will not go into detail in this article). Depending on the source of your songs, you may get a variety of formats in your audio collection.
However, there is a problem with this kind of variety. Most software audio players support a limited number of formats and may complain if you try adding a new song. Some players completely refuse to support certain formats, others just require downloading and installing a plugin.
At this point you will probably think that converting all your songs to the same format would be a good solution, but unfortunately it is not. If you convert from one lossy format to another one (for example, WMA to MP3), your files will be inferior in quality, compared to the original files. This is what "lossy" means: every time you convert audio to such format some audio information is lost and cannot be recovered. The same applies to the "lossless to lossy" direction. Converting lossy to lossless is pointless: you will simply get much bigger files with the same quality.
Thus the best solution would be having an audio player that would support all formats. Here we will take a look at a completely free audio player that does not require any additional plugins and plays all audio formats, CrystalWolf Free Audio Player.
Step 1: Download and install the program.
Download CrystalWolf Free Audio Player to your computer, run the setup file and follow its instructions to install the audio player.
Step 2: Start the audio player. Add songs to play.
Start the free audio player. The main window will be shown: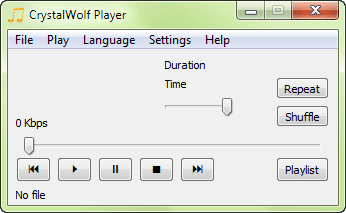 You can songs to play in several ways. A bit later we will consider how to associate all supported formats with this player, so that you can just double-click any song to play it. For now, just select "File" - "Open files":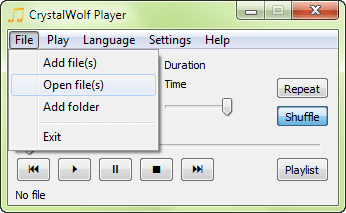 A typical "Open file" window will be shown: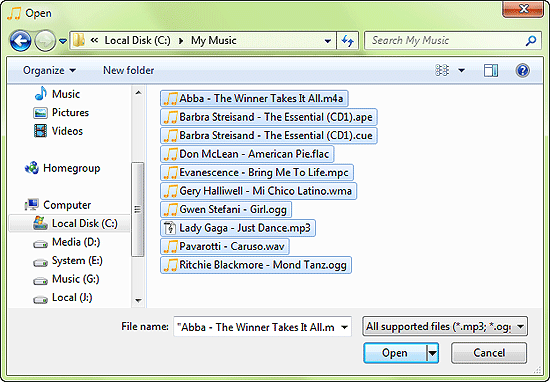 Browse to the folder where you keep your audio files and choose the ones you want to play. Click "Open" to add them to the playlist of the program.
Step 3: Play songs in any format.
On the screenshot above you can see a number of files in different formats. After opening them we click on the "Playlist" button in the player window. This opens the playlist window: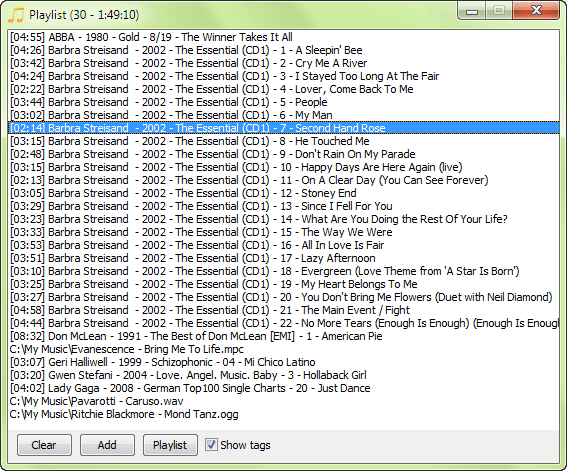 We can see that the Barbra Streisand file has turned into a number of separate tracks. This is because of the fact that the player detected the available CUE sheet and imported the track list from it.
The playlist shows ID information from the tags (the "Show tags" box at the bottom is enabled). In some files, however, there are no tags. In such case, the filename is shown instead.
Double-click a song in the playlist to start playing it.
Step 4: Associate the player with audio files and folders.
As we mentioned previously, there is an option to associate CrystalWolf Free Audio Player with files and folders. To do so, click "Settings" - "General settings". A new window will be shown: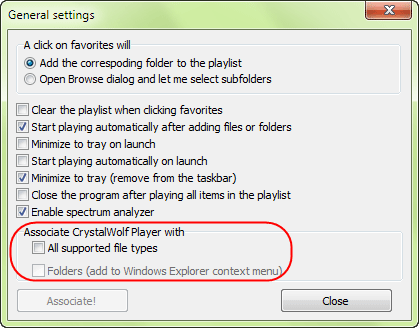 In the lower part of the window, there are two options: associate the player with all supported file types and associate it with folders. The first option allows you to open all supported audio files in the player by double-clicking the files. If you associate the player with folders, an entry will be added to the right-click menu of Windows Explorer. Using it, you can easily open an entire folder of songs in CrystalWolf Free Audio Player.
Tick the check boxes and click the "Associate!" button to associate the player with files and folders.
If the player is already associated with files and folders, the options are inactive.