How to play WV with CUE?
Introduction.
The .wv file extension typically refers to the WavPack lossless audio format. It's an open source and free format with its own advantages (for example, its source code is portable, and WavPack works on many architectures). Being lossless and highly efficient, it is a good choice for storing digital music.
CUE is a special text file that contains information about tracks in the corresponding audio file. When storing music albums, it is convenient to have one big audio file for an entire album and a small CUE file next to it. This gives you access to all tracks without creating separate files for each track (especially valuable if the corresponding album has uninterrupted transitions between tracks).
Most audio players require additional plugins to play WV files. We will see how one can play WV with CUE easily, without installing any additional plugins. We will use CrystalWolf Free Audio Player, the completely free audio player that supports more than 20 formats out of the box.
Step 1: Download and install the program.
Download CrystalWolf Free Audio Player to your computer and start the setup. Follow its instructions to install the player to your computer.
Step 2: Play WV + CUE.
Start CrystalWolf Free Audio Player. The main window of the program will appear: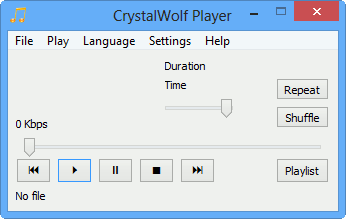 Click "File" and choose to open a file: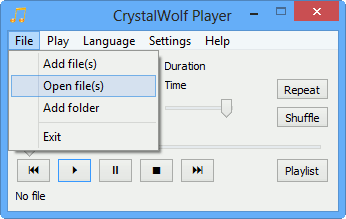 A typical "Open" dialog will be shown. Browse to the folder where your .wv and .cue files are stored and select the CUE file: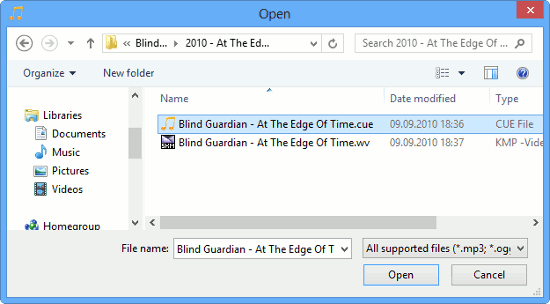 The player will automatically load the corresponding WV file and start playing it: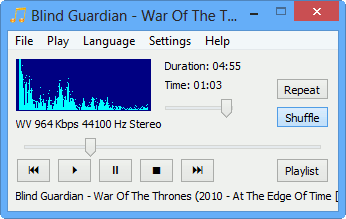 We can click on the "Playlist" button to open the track list.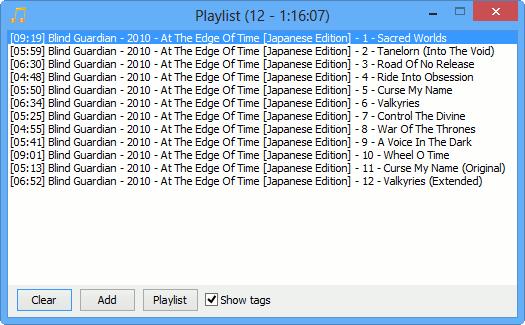 As we can see, though we have only one WV file, the player shows the complete track list, and you can easily play any track from the big WV album.
CrystalWolf Free Audio Player can also play individual WV tracks, as well as music in other popular formats.