How to create an internet radio station?
Introduction.
The internet offers numerous possibilities for communication. You can do thousands of things that were impossible just a decade ago. Chatting with people from all over the world. Posting your own articles and comments at online forums and in your personal blog. Getting help and important information.
One of such amazing things is a possibility to create an internet radio station. Earlier you should have invested quite a lot of money before you could get your own radio up and running, and even then your audience was pretty much limited. Today you can start broadcasting with minimum investments, and your audience can be built everywhere in the world.
There is a powerful tool for internet broadcasting, SAM Broadcaster. We will discuss it here.
Step 1: Download and install the program.
Download SAM Broadcaster to a known location. Run the setup package and follow on-screen instructions to install it. The program will also install a database - one that you choose before downloading. If you are acquainted with database options, you may change settings. Otherwise just use defaults and proceed with installing.
Step 2: Start the program. Add audio files that you want to broadcast.
Launch SAM Broadcaster. At the first start, the program will prompt to add some audio files. Most probably you don't intend to broadcast silence, so you surely have something to offer your potential audience. However, be careful and don't share copyrighted material without permission from copyright holder. Remember that you go public.
So, let's add a folder with files.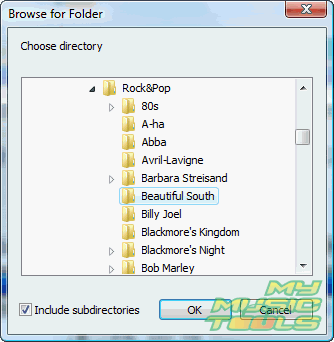 The program will import the files into its database. Later you will be able to add other folders and audio files.
Now take a look at the main window. There are two decks, which allows you to prepare the next audio file while the previous one is being played. You can also add different effects (applause, for instance), ads, and so on. Sounds can be mixed, smart crossfading is possible. Live listener statistics is shown in the right upper corner.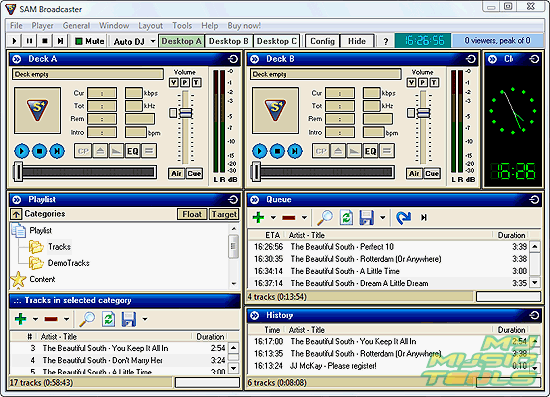 If you enable "Auto DJ", the files will be automatically picked up from the queue and played without pauses (radio automation).
Well, now you are ready to broadcast. However, one small detail is still missing. You need a streaming server to deliver your broadcasting to any audience. The server receives information from your computer and then distributes it among your listeners - a thing that you can't do with an ordinary ADSL connection.
SpacialNet offers you a number of options for live stream hosting. Just visit http://www.spacialnet.com/streamhosting/ for prices and conditions. After this you will be able to enter your data into the corresponding fields and start broadcasting.