How to create iPhone ringtones for free?
Introduction.
iPhone is a mobile phone by Apple that revolutionized our idea of smartphone. A device with a single button and a big colorful touchscreen display turned out to be feature-rich and very easy to use. You can easily make and receive calls, surf on the internet, watch video clips, listen to your favorite music, and more.
It is also pretty easy to buy new ringtones for an iPhone. But if you prefer to have a different ringtone for every contact in your phone book and change them pretty often, this may become quite expensive. Furthermore, ringtones that you buy are not really unique.
On the other hand, you can easily create your own iPhone ringtones with Free Ringtone Studio.
Step 1: Download and install the program.
Download Free Ringtone Studio to your computer and start the setup. Follow its instructions to install the ringtone maker.
Step 2: Start the program. Add music files.
Launch Free Ringtone Studio. Its main window will appear: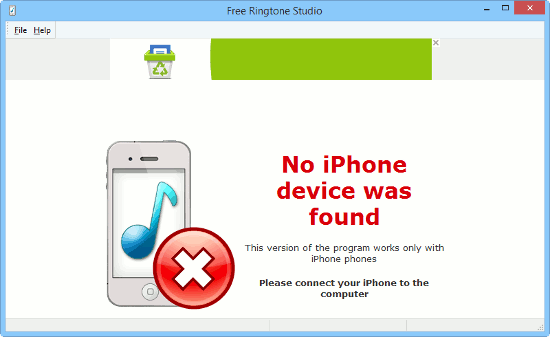 The program expects us to connect an iPhone to the computer. Let's do this.
The contents of the window changes.
Now click the "Add files" button on the toolbar:

A typical "Open files" dialog is shown. Browse to the location of your favorite songs, select the ones you want to have as ringtones on your iPhone and confirm your selection with "Open".
Step 3: Copy new ringtones to iPhone.
The music files will appear as a list in the main window of Free Ringtone Studio: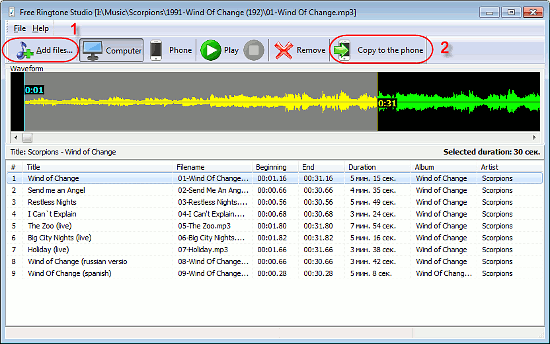 The program automatically removes silence at the beginning of each song and selects the first 30 seconds (can be adjusted in the settings) to be used as ringtones. So, you can simply click the "Copy to the phone" button (2) on the toolbar to create and copy the new ringtones to your iPhone.
Step 4 (Optional): Customize your ringtones.
Alternatively, it is possible to customize ringtones. Just select the corresponding song in the list and adjust the beginning / end of the corresponding ringtones by clicking on the waveform:

To set the beginning of a ringtone, click the waveform with the left mouse button. To set the end, click the right mouse button.
To start playing the selected part, click the "Play" button on the toolbar. You can also double-click the waveform to start playing from that point.
Finally, click the "Copy to the phone" button to extract the selected parts, convert them to the correct iPhone format, copy the new ringtones to your iPhone and update its database.
Free Ringtone Studio is a completely free program that does not have any limitations.