How to karaoke for free?
Introduction.
Karaoke is a popular form of home and public entertainment, and a lot of devices give you the ability to sing along with music and lyrics shown on the screen. Almost every DVD or multimedia player has the karaoke function. But what about your computer?
In this article we will discuss how to karaoke with the help of your PC. For our example we will take KaraWin Pro player as this free program offers the most convenient way to play karaoke KAR files, featuring great graphical lyrics appearance and hints while singing. KAR is a popular MIDI-based karaoke format, KAR files are very small (compared to other formats) and often available on the internet for free.
Step 1: Download and install KaraWin Pro.
Download KaraWin Pro to a known location. Launch the setup program and follow its instructions on the screen.
Step 2: Launch the program.
Launch the karaoke player. The main window looks like this: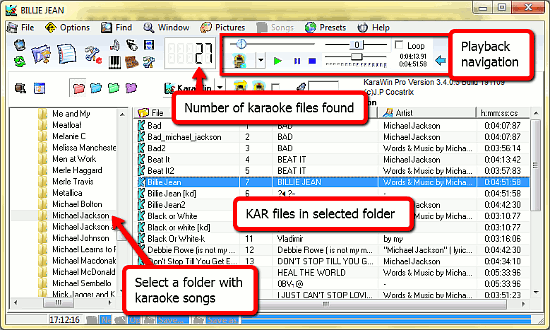 While there are a lot of different icons, the controls are very simple. Firstly, select the folder with karaoke files in the left part of the window. It is similar to Windows Explorer, so finding your karaoke folder will be easy. After that, in the main part of the window, a list of found KAR karaoke files will be displayed. Their total number is shown on the counter above. Now let's look at the upper part of the window, where the player is shown. We are just one step away from the karaoke fun.
Step 3: Playing karaoke.
In order to start karaoke, double-click one of the KAR files in the list or simply select one and click "Play" in the player area. A new window will emerge: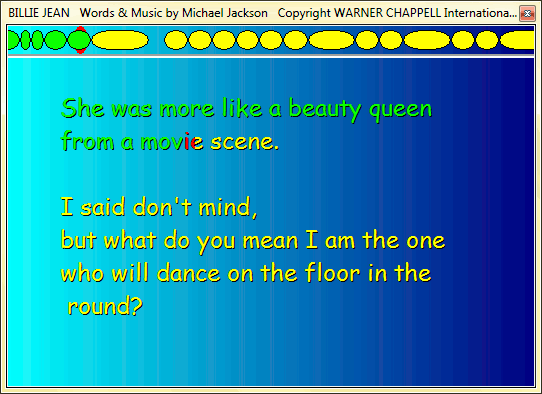 Here everything is simple. The karaoke lyrics are written in 3 colors: yellow for the words to be sung, red for what you should sing right now and green for those which you have sung already. Music goes along with the text, and on the top of the window, we can see some hints concerning the length of sounds (notes). So now you can simply enjoy singing any karaoke KAR song.
KaraWin Pro player is a feature-rich and free karaoke player capable of playing KAR files. Additionally it can play karaoke in MP3, CDG, AVI formats, which turns it into a 'must have' for any karaoke lover.