How to play TTA files?
Introduction.
TTA files are audio files encoded with the True Audio codec. True Audio is a lossless compression codec in its purpose similar to FLAC, APE and other lossless formats. A TTA file contains an identical copy of an audio track. This is different from MP3 and other lossy formats where some audio data is discarded.
You can easily play TTA files with CrystalWolf Free Audio Player.
Step 1: Download and install the program.
Download CrystalWolf Free Audio Player to your computer and start the file. Follow instructions of the setup wizard to install the audio player.
Step 2: Start the player. Play TTA files.
Start the audio player. Its main window will be shown: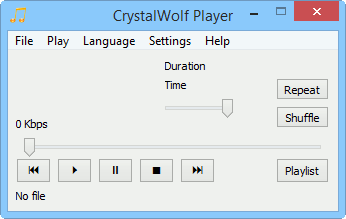 Click "File" - "Add file(s)":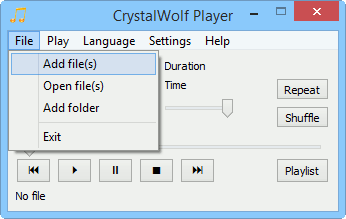 Alternatively, you can use "Open file(s)" or "Add folder". "Open file(s)" removes all entries from the current playlist, while "Add file(s)" adds new files to the existing list. As we've just installed the program, our playlist is empty, so there is no difference.
A typical "Open file" window pops up.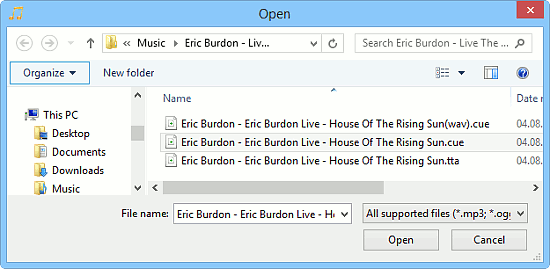 Select your TTA files.
In our example, we have a TTA + CUE combination, which means that all tracks of our album are stored within a single TTA file. The small CUE file describes the tracks and allows to access them easily. That's why we open our .tta file through the .cue file.
Once you hit the "Open" button, the open file window disappears. CrystalWolf Free Audio Player starts playing your TTA files.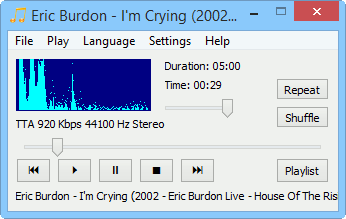 Click the "Playlist" button to open the current playlist with your TTA tracks: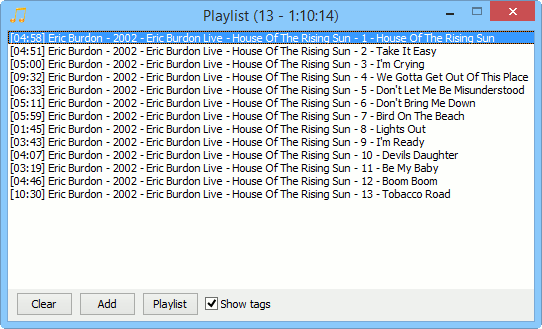 Here you can double-click a track to jump to it.
CrystalWolf Free Audio Player supports more than 20 popular audio formats. As its name suggests, the program is completely free.