How to show movie covers on Dune HD players?
Introduction.
Dune HD players are hardware players designed and produced by HDI Dune Ltd. Currently the model line includes Dune HD Base and Dune BD Prime. These devices are notable for their ability to play all kinds of videos, including high resolution ones (HD movies). Dune BD Prime contains a built-in Blu-Ray drive, which allows playing DVD and Blu-Ray movies directly on the device. The less expensive Dune HD Base model has no Blu-Ray drive, but the majority of other features are available in Dune HD Base, too. And these features include the ability to play backup DVD images (.iso), DVD folders (VIDEO_TS), Blu-Ray images, Blu-Ray folders, MKV video files (.mkv), AVI video files etc. These files can be played over the network (wired or wireless), from the internal Dune hard drive, from an external drive connected directly to Dune.
If you own a Full HD or a HD ready television, a Dune HD player will turn it into a powerful entertainment center, offering an easy access to your movies. However, there is yet another feature of Dune HD players that is often not obvious for new users. It's the ability to create a movie catalog and show movie covers instead of filename lists. This feature is especially interesting if you store your movies in various locations: some movies are on a NAS (network attached storage), others are in shared folders of several computers, yet another portion is stored on an external HDD attached to your Dune HD player. With a movie catalog you will be able to browse all movies regardless of their location: alphabetically, by genres, by actors etc.
You can create such a movie catalog for Dune HD players with Movienizer.
Step 1: Download and install the program.
Download Movienizer to a known location. Run the downloaded setup program and follow its instructions.
Step 2: Start the program. Create your movie database.
Launch the movie organizer. If you use the program for the very first time, a demo database will be shown.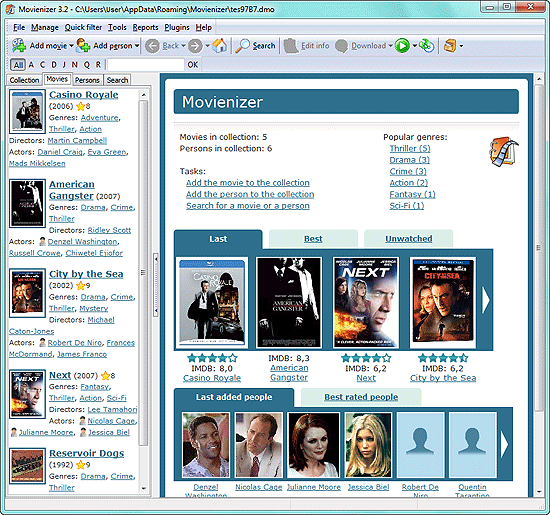 Click "File" - "New database" to create your own database.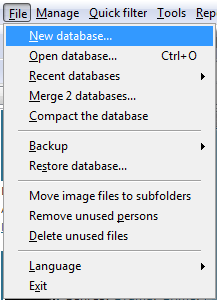 It is recommended to save your database in a folder where you can easily access it later (for example, a folder with your documents or other important files).
After creating a new database, click the "Add movie" button on the toolbar.

This will start the "Add movie" wizard. Now we want to create a movie catalog for video files, so let's select the corresponding option (it's the last one, "Add a movie from a file") (1):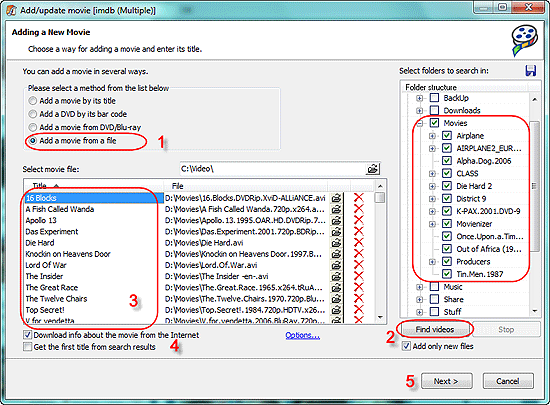 On the right, the folder structure of your computer will be shown. If your movies are stored on a network drive, go to "Tools" - "Options" and check the "Show network drives" box.
Select the folder where your movies are (you can select multiple folders) and click "Find videos" (2).
After a scan, all movies from the folder will be shown in the list (3). Movienizer will try to extract titles from filenames automatically. If some editing required, you can correct the title directly in the "Title" column, just click the corresponding title and adjust it as necessary.
When adding huge movie collections, you may want the DVD organizer to do most of the work automatically. To avoid showing search results for each title, just check the "Get the first title from search results" box in the lower part of the window (4).
Finally, click "Next" (5).
Information about your movies will be downloaded from the internet and saved to your local movie database.
Step 3: Create Dune movie catalog.
Now we have all necessary information, including movie covers, genres, list of actors, links to video files. So let's use this information to create a movie catalog for our Dune HD player.
Click "Tools" - "Create Dune movie catalog":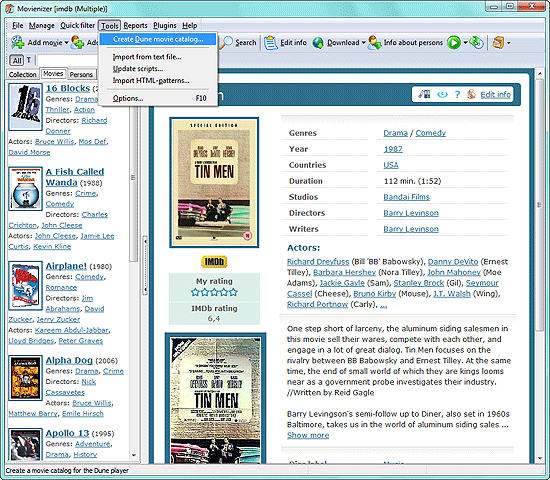 This will start an easy to follow wizard: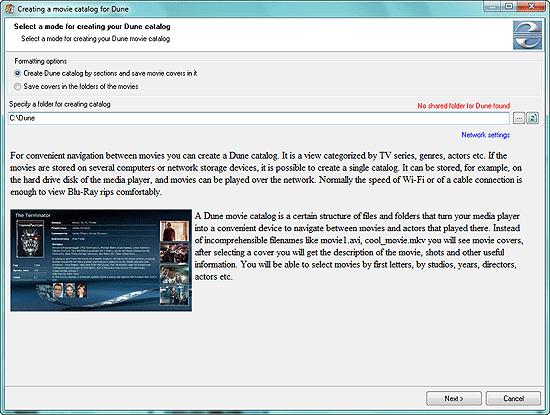 On the first page, there are two options. The first one will create a Dune movie catalog in any folder of your choice (on any device that you have access to). The second one will create covers and movie information pages in folders of the corresponding video files. So, for the second option it is required that there is only one movie per folder. If necessary, new folders will be created and your video files will be sorted into them according to your choice.
We choose the first option and click "Next".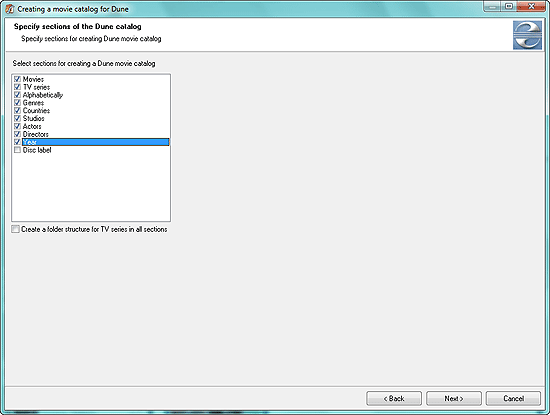 The second page allows to create sections by which movies will be sorted on your Dune player. Just check or uncheck the boxes and click "Next".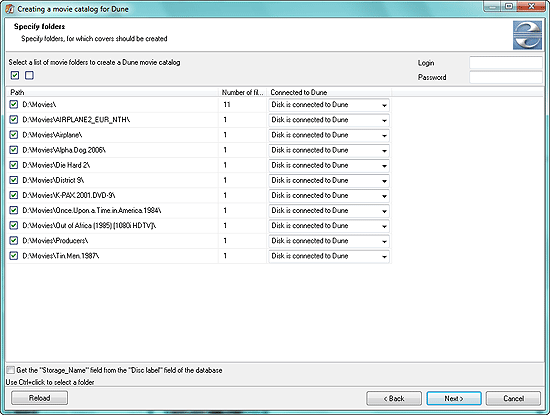 The next step shows connection types. If your movies are stored on an external hard drive that you have connected to your computer in order to create a Dune movie catalog and afterwards will connect it directly to Dune, select the "Disk is connected to Dune" option. If your movies are stored on your local network, the program will try to detect the best settings. Among other options are SMB and NFS connections.
If login and password info is required to access your folders with movies, enter the information into the corresponding fields in the right upper corner (however, don't enter this information if it is not required, otherwise your Dune won't be able to access movies properly).
Click "Next".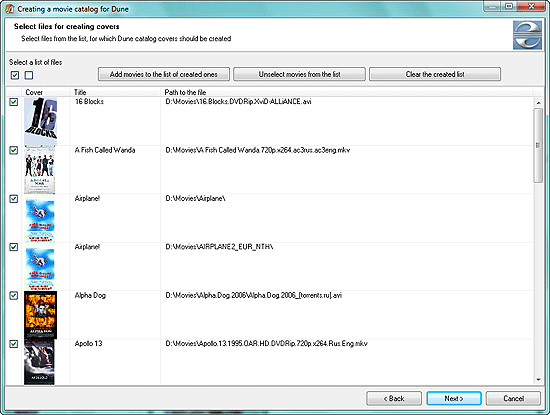 At this step you can select (or unselect) individual movies for your catalog. If you want a catalog for all movies, just click "Next".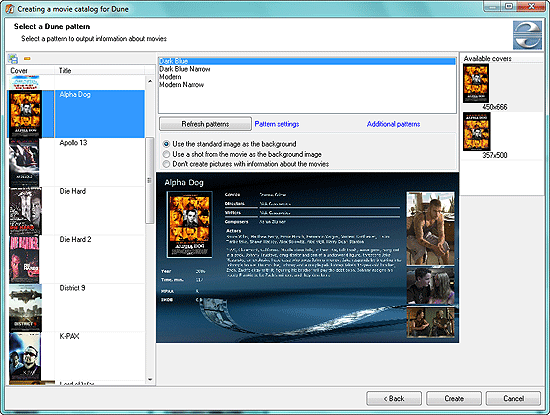 The last step allows you to adjust look and feel of your catalog. Here you can choose posters for every movie, select a pattern, adjust pattern settings. Movienizer contains several patterns for Dune movie catalogs, more patterns can be downloaded from the official site.
Here you can also choose whether or not movie information pages should be created. When you select a movie cover with your Dune player, two actions are possible:
Dune can start playing the movie.
Dune can show additional information about the movie, including shots from the movie, synopsis, list of actors etc.
For the first option, select "Don't create pictures with information about the movies".
Finally click "Create" to build your Dune movie catalog and enjoy browsing your movie database on Dune by covers, genres, actors etc.
An example of a Dune movie catalog created by Movienizer: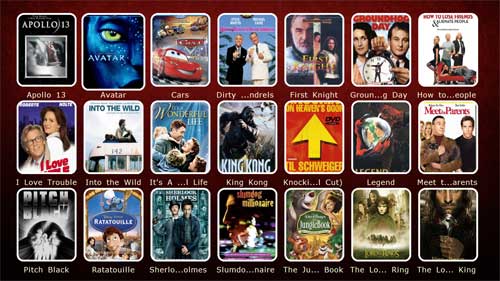 With the trial version of Movienizer you can add up to 50 movies to your database. If you like the program, you can register it and remove all limitations. Information entered with the trial version can be transferred to the full version without any losses.