How do I convert movie to iPod format?
Introduction.
As popularity of portable video players grows, special programs appear, allowing user to produce high quality picture and sound especially for some type of player. Converting AVI to iPod may be a bit tricky with a usual multi-purpose video converter, as you should set necessary resolution, bitrate, and other options yourself. Specialized programs already know everything about their target, you should take only a few simple steps to accomplish this non-trivial task.
We will consider how to convert a movie to iPod format with Cucusoft iPod Movie & Video Converter.
Step 1: Download and install the program.
Download Cucusoft iPod Movie & Video Converter to a known location. Run setup and follow on-screen instructions to install the application.
Step 2: Launch the program. Open a movie to convert.
Start Cucusoft iPod Movie & Video Converter. The main program's window appear: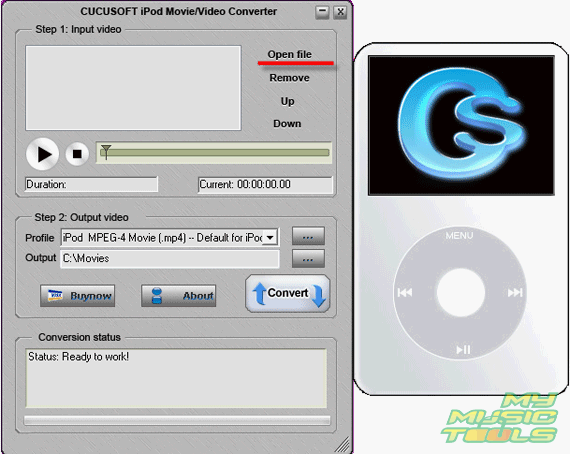 In fact, there are two windows. One is for all kind of operations, another copies iPod with program's logo on its screen. This second part is non-functional, except that it shows preview of your video, how it will look like on your iPod.
Click "Open file". Usual "Open" dialog appears. Browse to your movie file, select it, click "Open".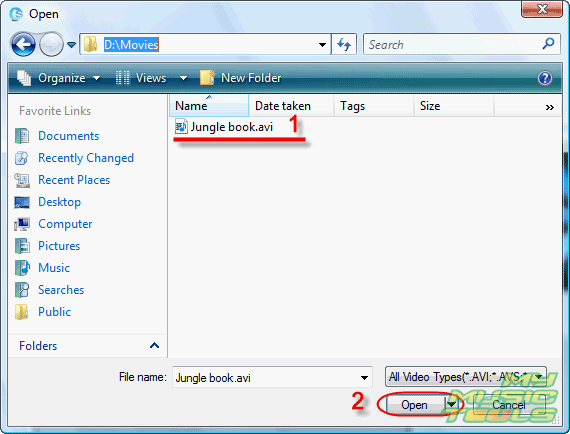 The file will be added to "Input video" list.
Step 3: Set output profile and folder. Start converting.
You can add more files by repeating the above described procedure. For this example we will use only one file.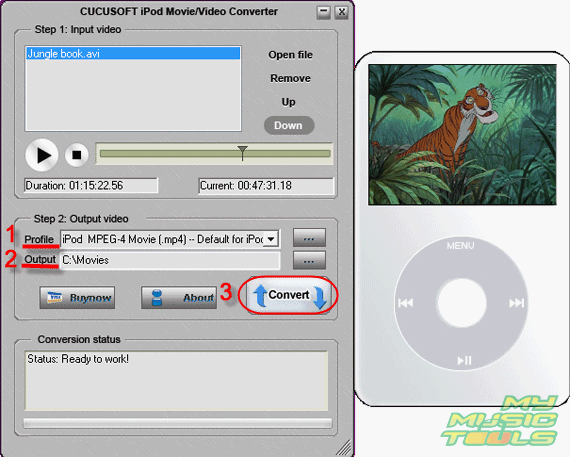 Select output profile for your video (1). The default profile is perfectly compatible with iPods, so you don't need to change it. However, it is possible to select other profiles from the drop-down list, and even adjust them by clicking "..." button and setting parameters by hand.
As next, set output folder for converted movies (2). We have set it to "C:\Movies".
To complete the process, click "Convert" button (3). The program will start converting. It will take some time, depending on your system.
The program supports all most popular movie formats, so normally you don't need to worry about codecs and similar things.
Step 4: Transfer converted movies to iPod with help of iTunes.
After converting is finished, close the program. Launch iTunes, connect your iPod and transfer the movies. Instead of iTunes you can use your favorite program that is able to work with iPod (many specialized tools are available).
Trial version of Cucusoft iPod Movie & Video Converter puts watermark logo into your movies. To convert movies to iPod without the watermark, you should unlock the program with your personal registration key after purchasing it.