How to join WAV files?
Introduction.
WAV is one of the most popular audio formats, a de facto standard for raw audio on systems of the Windows family. Typically WAV files contain unprocessed and uncompressed audio data. Such files can be easily converted into any other digital audio format or burned to an Audio CD. WAV is often used as the intermediate format when converting or recording audio.
You can easily join WAV files using Visual MP3 Splitter & Joiner.
Step 1: Download and install the program.
Download Visual MP3 Splitter & Joiner to your computer and start the file. Follow instructions of the setup wizard to install the WAV joiner.
Step 2: Start the program. Select WAV to join.
Launch Visual MP3 Splitter & Joiner. Its main window will be shown. Click the "MP3/WAV Joiner" button on the toolbar to switch to the joiner mode: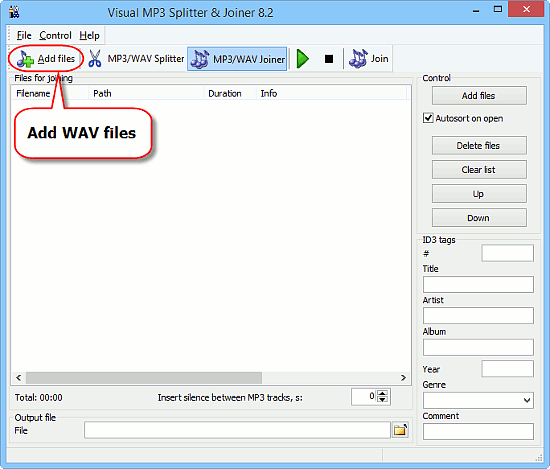 Once in the joiner mode, click the "Add files" button on the toolbar. The usual "Open file" dialog will pop up: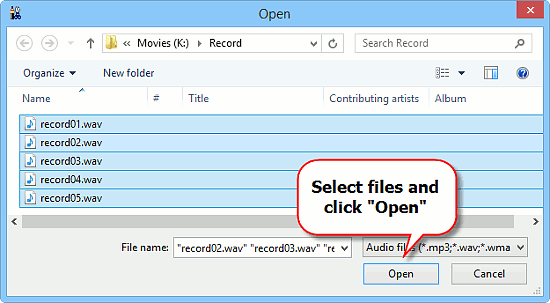 Select the WAV files that you want to join (Ctrl + A will select all files in the folder) and click "Open".
Step 3: Join WAV files.
The selected files will appear as a list: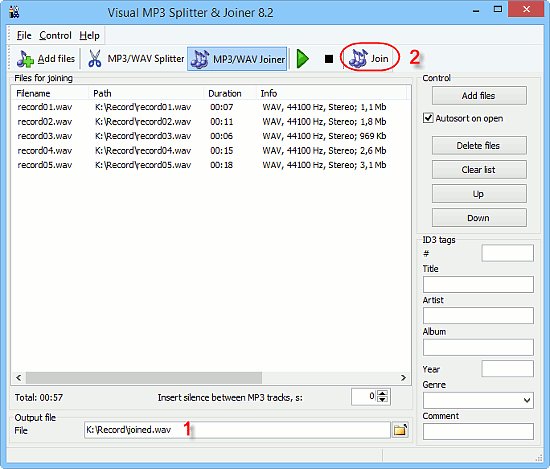 Now select a folder for your joined file at the bottom of the window (1). By default, the program suggests to save files into the same folder where your source files are, providing "joined.wav" as the output filename. You can click the folder icon on the right and select a different folder. Filename can be corrected directly in the filename field.
Important: if you use Windows Vista or newer, make sure that you have necessary permissions to save files into the selected output folder. If you do not have necessary permissions, the program will not be able to save the joined WAV file.
Finally, click the "Join" button on the toolbar to join the WAV files (2).
If you need to change order of parts, click on a part to select it and use the "Up" and "Down" buttons on the right to move it to the desired position.
The free trial version of Visual MP3 Splitter & Joiner can join up to 5 WAV files at once (but you can repeat the operation as many times as you need). If you like the program, you can register it and remove all limitations.