How to burn CD-Text?
Introduction.
CD-Text is an extension of the Audio CD format that allows saving information like title, artist, album to audio CDs. As a result, you can play an Audio CD and see what song is currently playing without looking it up on the cover. Many software and hardware players are capable of reading and displaying CD-Text.
It is possible not only to read CD-Text, but also to write it. If you create your own Audio CDs (compilations, self-made CDs), you may also want to burn CD-Text along with your audio tracks. This can be done automatically with a program like Audio CD Burner Studio.
Step 1: Download and install the program.
Download Audio CD Burner Studio to your computer and start the file. Follow instructions of the setup wizard to install the software.
Step 2: Start the program. Add audio tracks to burn.
Launch the CD burner. The main window of the program will be shown: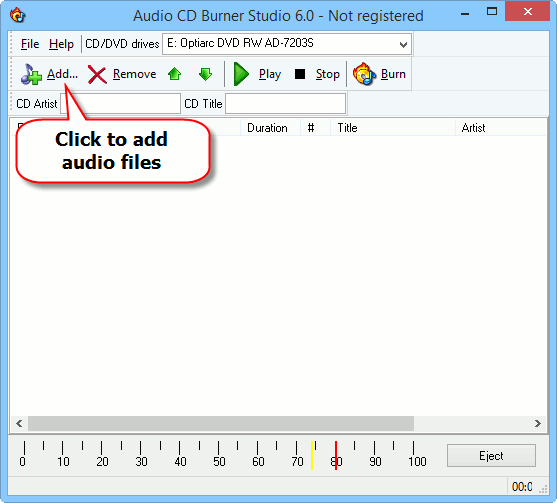 Click the "Add..." button on the toolbar. This invokes the "Open" dialog: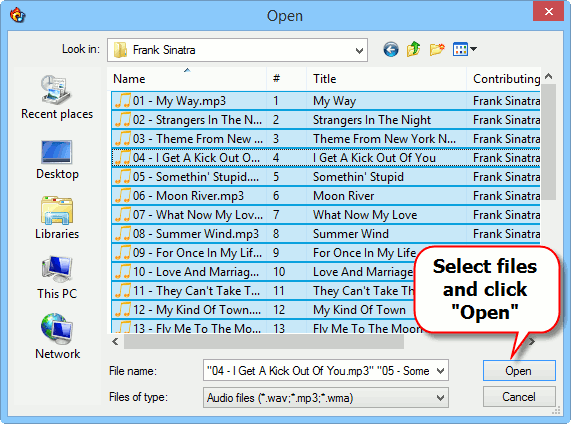 Browse to the folder where your audio files are stored, select the ones you want to burn to the new Audio CD and click "Open".
If you want to burn files from different folders, you will need to use the "Open" dialog several times.
Step 3: Burn Audio CD with CD-Text.
Your files will be added to the list. Audio CD Burner Studio automatically extracts information from tags to use it as CD-Text. You can also fill out fields manually by clicking the corresponding field and entering your information.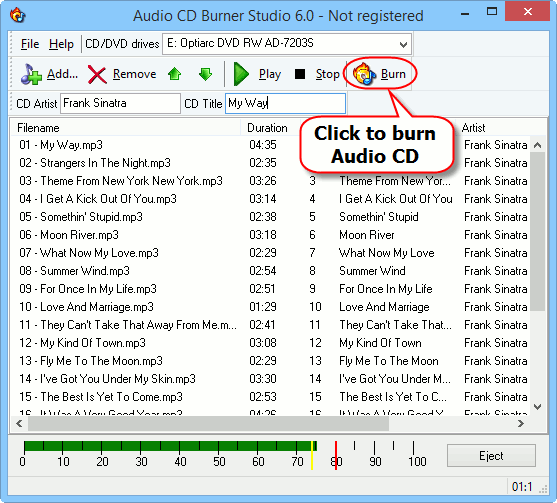 Now, insert an empty CD-R or CD-RW into your CD/DVD drive. If you have several CD/DVD drives in your system, select the one you want to use from the "CD/DVD drives" dropdown list that you find next to the "File" and "Help" menu items of Audio CD Burner Studio.
Finally, click the "Burn" button on the toolbar of the program to start burning your Audio CD with CD-Text.
Audio CD Burner Studio is distributed as a free trial. You can test all its features without limitations during 30 days since the first installation of the program on your system.