How to convert M4A to WAV for free?
Introduction.
The M4A filename extension is typically used with MP4 audio files. As the MP4 container format allows storing both audio and video, the M4A extension was adopted by several publishers (in particular, Apple) to emphasize that the corresponding file contains only audio. There are other extensions created by the same scheme: M4V for MP4 video, M4B for audio books, M4P for protected files, etc.
An M4A audio file can be lossy or lossless, depending on the used codec.
WAV is often considered to be one of the most basic audio formats. WAV files typically contain raw and uncompressed audio data. When you convert audio into the uncompressed WAV format, no data is discarded, so you get an identical copy of the source audio.
While WAV files are very big (especially if you compare them to their copies in some lossy format like M4A or MP3), they have their own advantages. For example, being lossless, WAV is a perfect intermediate format.
You can easily convert M4A to WAV using Free M4a to MP3 Converter.
Step 1: Download and install the program.
Download Free M4a to MP3 Converter to your computer and start the file. Follow instructions of the setup wizard to install the M4A converter.
Step 2: Start the program. Select M4A to convert.
Launch Free M4a to MP3 Converter. Its main window will be shown: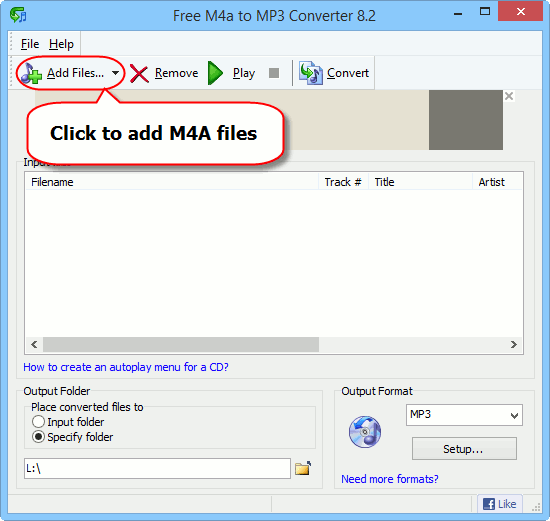 Click the "Add files" button on the toolbar. A typical "Open file" dialog pops up: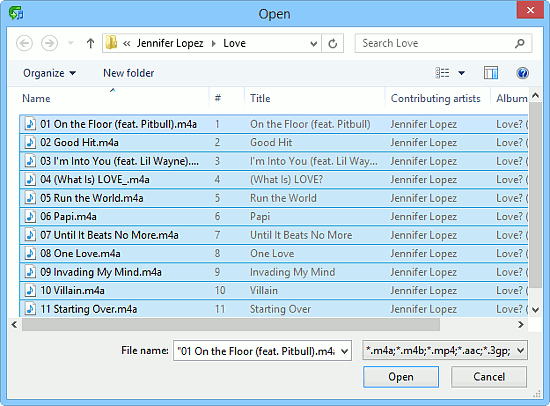 Browse to the folder where you keep your M4A files, select the ones you want to convert to WAV (multiple files can be selected) and click "Open".
Step 3: Convert M4A to WAV.
The M4A files will be added to the conversion list: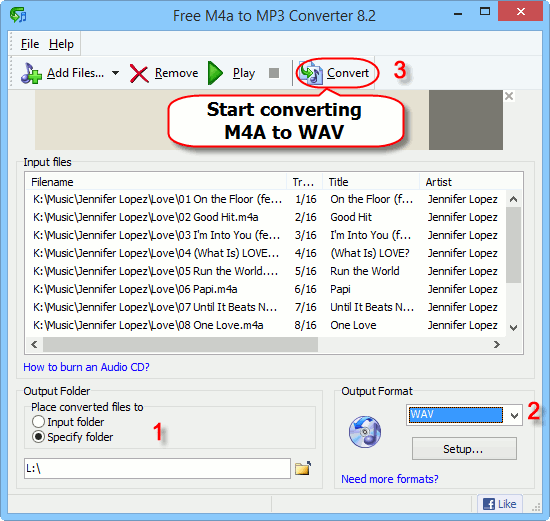 Now decide where you want to save the converted WAV files (1). You can use the same folder where your M4A files are stored or just any other folder on your computer. Use a folder where you can create and save new files, otherwise the program may fail to convert your files due to insufficient privileges.
In the "Output format" area, select "WAV" from the dropdown list (2).
Finally, click the "Convert" button on the toolbar (3).
Free M4a to MP3 Converter will start converting your M4A to WAV. Depending on the number of songs / audio files, it may take some time. When done, the program will display a message.
As its name suggests, Free M4a to MP3 Converter is a completely free program with no restrictions.