How to convert RM to MP3?
Introduction.
RM is a container format created by RealNetworks. 'Container' means that you can put different content in, including audio and video. We will discuss RM audio files here.
There are several codecs that can be used to encode RM audio, which makes the format very powerful and flexible. It is popular on the internet, because audio can be encoded in poor quality to make it available for slow networks, but it can also offer excellent quality.
To play RM audio files, you may need to install RealOne Player, or Real Alternative codecs.
If you need to play downloaded RM audio files on your portable MP3 player, use a program like ALO RM to MP3 Converter.
Step 1: Download and install the program.
Download ALO RM to MP3 Converter to a known location. Run setup and follow its instructions to install the application.
Step 2: Start the program. Select files to convert.
Start the RM to MP3 converter. The main window will be shown: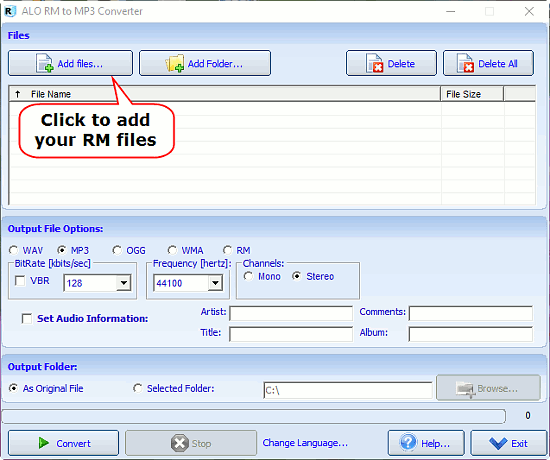 Click the "Add files..." button on the toolbar (left upper corner of the main window). A typical "Open file" dialog will pop up: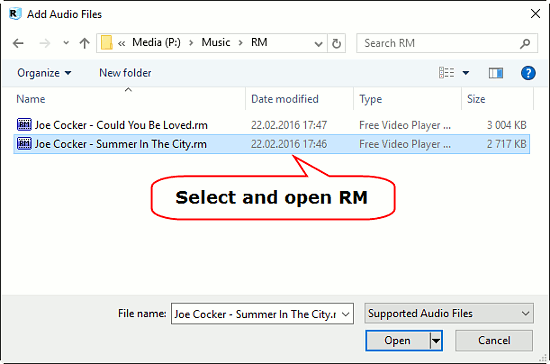 Browse to the folder where your RM files are stored, select the one(s) you want to convert to MP3 and click "Open".
Step 3: Adjust output quality. Convert RM to MP3.
The files will be added to the list.
Now check the "Output File Options" area under the list (1). Make sure that MP3 is selected. Additionally, you can specify your preferred bitrate, frequency and number of channels (stereo or mono).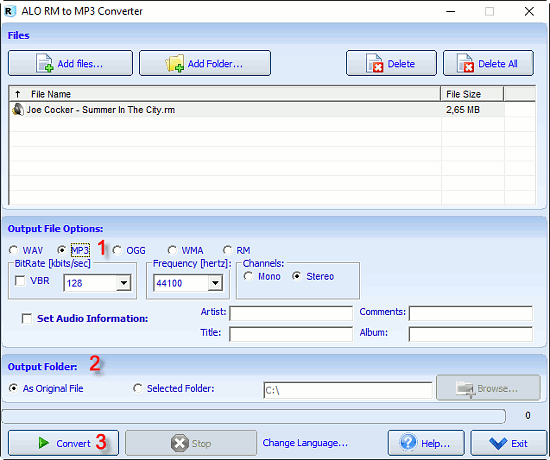 Furthermore, you can provide some basic ID3 tags (artist, title, album, comments).
In the "Output Folder" area (2) select a folder for your converted MP3 files. By default the RM to MP3 converter suggests the same folder where your RM files are stored ("As Original File"). You can switch to "Selected Folder" and use the "Browse..." button on the right to select a folder.
Finally, click the "Convert" button in the left lower corner of the window (3).
The free trial version of ALO RM to MP3 Converter allows you to add only 1 file a time. If you like the program, you can register it online and remove this limitation.