How do I convert my LPs to MP3?
Introduction.
When mentioning LP records, some people get nostalgic and suggest that LPs are by all means better than any CD, DVD, or whatsoever. They draw diagrams showing that digital music can never satisfy needs of a true listener because of its inferior basic principle. They enjoy every second of valuable old records full of real sound.
But even those people used to take advantage of digital. CDs are smaller than LPs and can be easily taken to be played at some party. MP3 files are perfect for portable audio players. And quality... is still OK for everyday use.
Besides, it is always good to have some backup.
We will discuss how to transfer your favorite LP records to your computer for saving them as MP3 or burning an Audio CD. We will use Acoustica Spin It Again - a very good solution for everybody who loves music and has a plenty of LP and tape recordings. The program can convert LPs to MP3 and automatically provide the newly created files with such information as title, artist etc.
Step 1: Download and install the program.
Download Acoustica Spin It Again to a known location. Launch setup and follow on-screen instructions to install the application.
Step 2: Launch the program. Choose to record a Vinyl LP.
Launch Acoustica Spin It Again. The main window will be shown.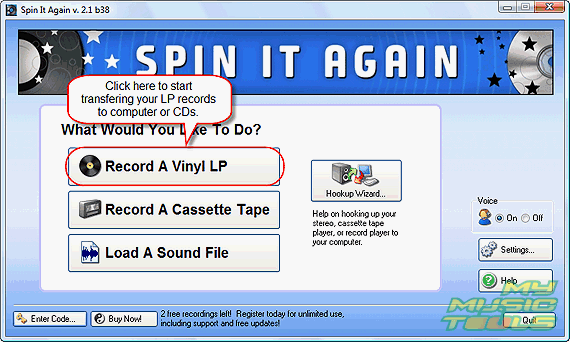 Click "Record A Vinyl LP" button.
The program will offer you to launch "Hookup Wizard". If your LP player is already connected to the computer's sound card, or if you know how to do it, you may skip the wizard. Otherwise click "Yes" and follow instructions, it will make your life much easier.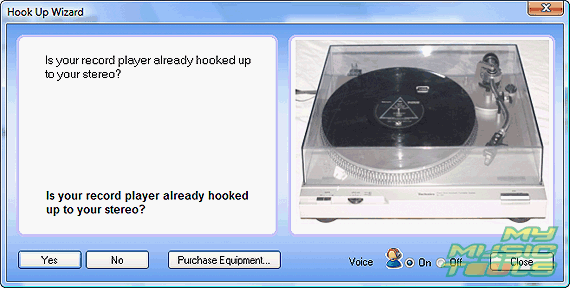 After LP player is connected to sound card, the program should configure recording levels. It is done automatically, just choose to run yet another wizard.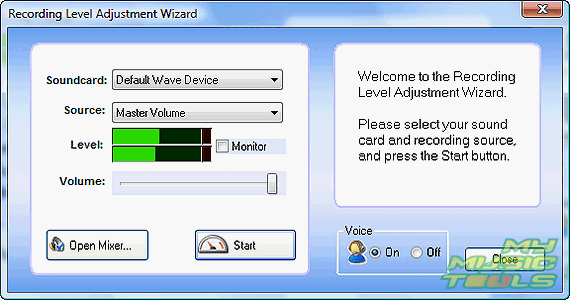 Step 3: Record LP tracks to computer.
All necessary preparations are done. Now it's time to start recording.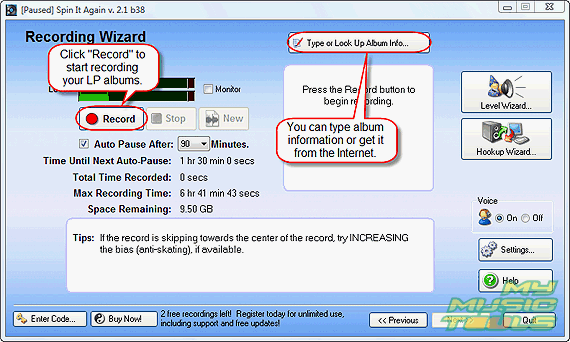 Click "Record" and start your LP player. The recording is done in real time, so you can relax and listen to your favorite music. Don't care about pauses and separate tracks, the program can detect tracks automatically.
When finished with the album, just click "Stop".
Step 4: Detect tracks and enter album info.
As next, the program detects tracks and offers you to confirm its guess or to adjust boundaries. You can split, merge, or delete tracks from the recording. It is also possible to remove different kinds of noise (LP is not clean, static, scratches etc.). Spin It Again allows you even to readjust speed of the recording, if LP was played too slow or too fast.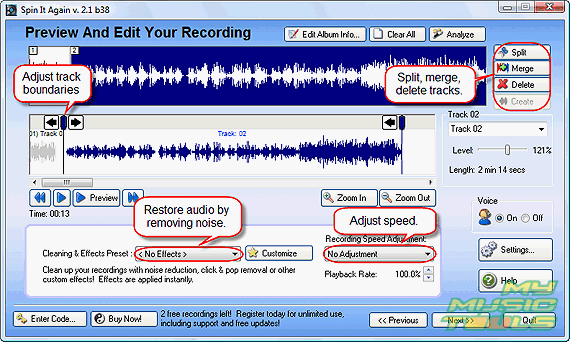 Click "Next" to proceed.
It will take you to the following screen. Here you can enter artist and album information and click "Look Up Album Information" button. The program will find all other details on the Internet, including names of tracks, genre, year etc.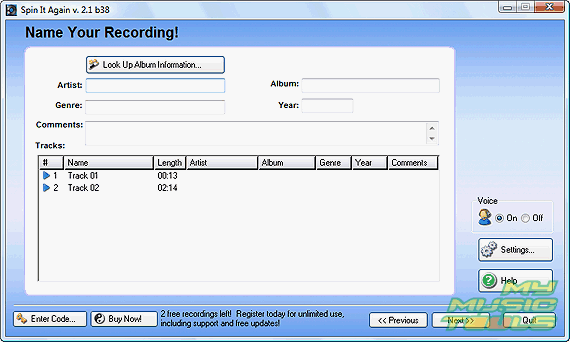 When done, just click "Next".
Step 5: Save your LP tracks as MP3 or burn them as Audio CD.
The program will offer you a number of choices. We will consider both converting LP to CD and creating audio files.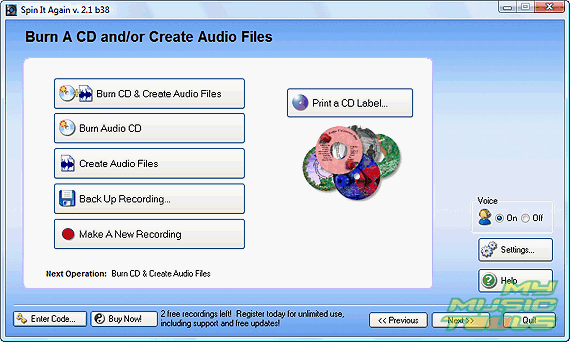 So let's click the first button.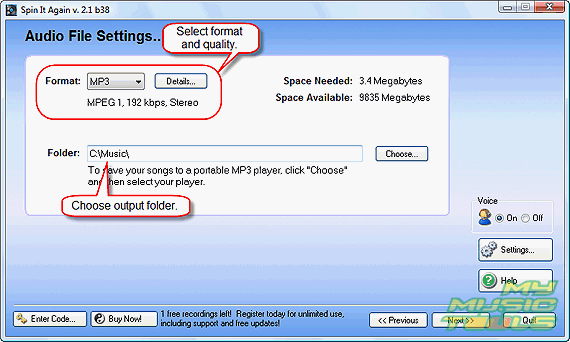 Choose output format, quality, and folder for the audio files to be created and click "Next". The program will detect your burning devices.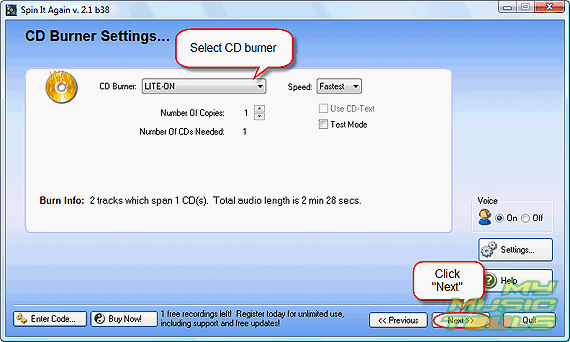 Select preferred CD burner and its burning speed, click "Next". The program will start creating audio files and CD.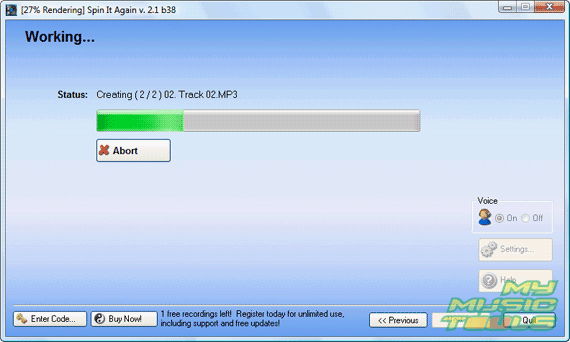 In just the same way the program can be used to convert tape cassetes to CD or to save their tracks as audio files.
Trial version of Acoustica Spin It Again has limited number of recordings (3). If you like this piece of software, you may purchase it and remove all restrictions with your registration data.