How to increase brightness of a dark video?
Introduction.
If you have a digital video camera and enjoy recording different events, you have surely encountered situations when the resulting video is too dark.
This happens not only with home-made videos. Sometimes even videos that are ripped from a DVD may lack brightness. You set the brightness on your TV at maximum and nevertheless see only shadows.
Although the situation with a dark video can be quite annoying, there is an easy way to cure the problem. All you need is a video editor that is able to adjust brightness level of your movie.
EnhanceMovie is a program that allows to increase brightness of a dark video in a couple of clicks.
Step 1: Download and install the program.
Download EnhanceMovie to a known location. Run the setup program and follow on-screen instructions to install it.
Step 2: Start the program. Open your movie to adjust brightness.
Launch EnhanceMovie. In the main window, click the leftmost button on the toolbar ("Open").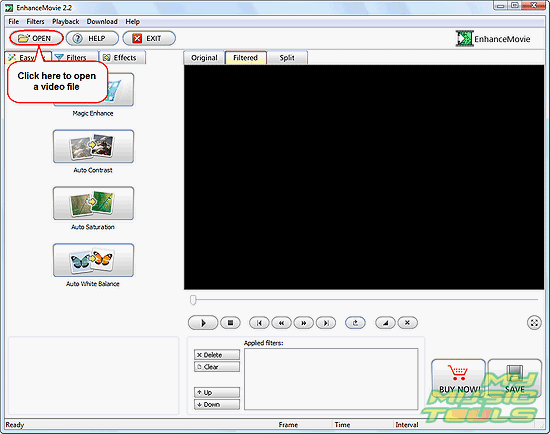 This will invoke a usual "Open" dialog. Browse to the location where your movies are stored. Select and open a video where you want to adjust brightness.
Step 3: Improve brightness of the movie.
You can preview the video in the preview area on the right. If you haven't applied any filters yet, the video is shown in its original quality: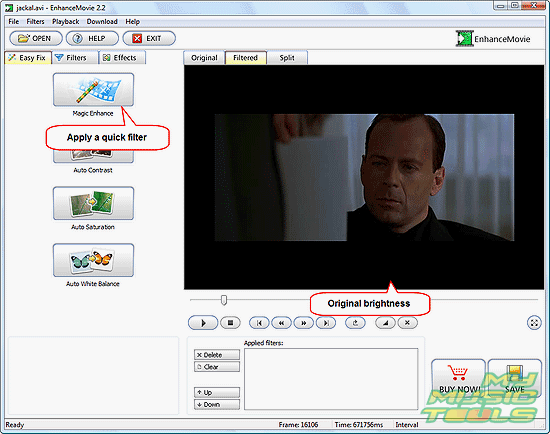 EnhanceMovie features an easy way to enhance visual characteristics of the movie. Click the "Magic Enhance" button on the left pane to preview how this can improve your video.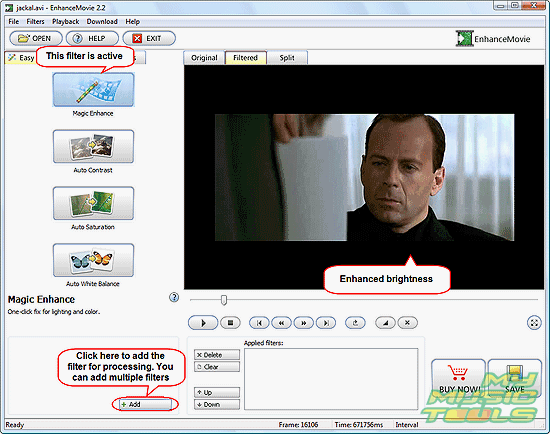 If this is just what you wanted, click "Add" in the lower part of the window to add the Magic Enhance filter set for processing. Once added, it will appear in the "Applied filters" list. You can add more filters to the list, if they improve your video further. Every time, the immediate preview is available.
If you don't like the Magic Enhance output, simply click the Filters tab and adjust necessary characteristics manually: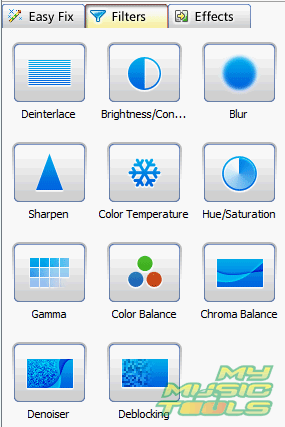 Finally, click the big "Save" button in the right lower corner:

This will open a simple "Save" wizard. First, set output folder, filename and video format.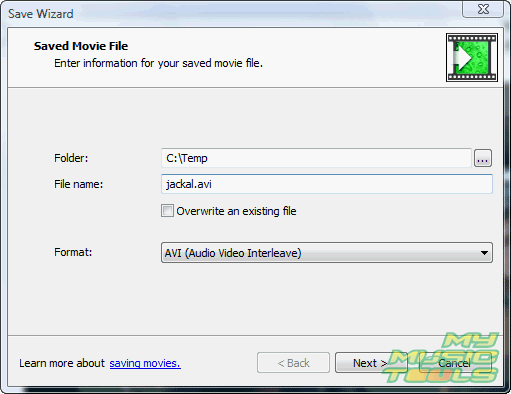 Click "Next" to continue.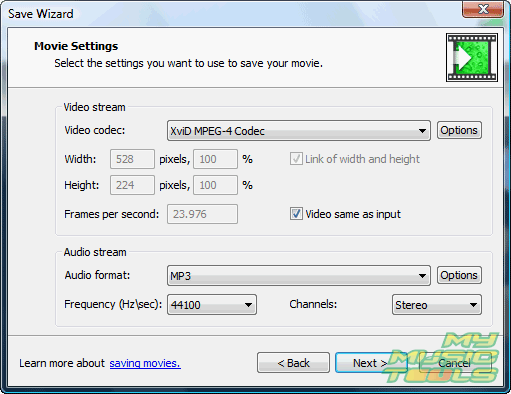 At the second step you can choose a video codec and other settings. If not sure what to set up here, click "Next" to use default settings. You can also learn more about the process of saving movies by following the hyperlink hints at the bottom of the wizard's window.
Once you click "Next", the program starts processing your video. It can take some time, depending on your hardware. The original file will remain unchanged.
The trial version of EnhanceMovie adds a logo to all processed videos. If you are satisfied with the quality and features, you can register your copy and remove all limitations.