How to play MKV file?
Introduction.
MKV is a file extension for Matroska, a free open multimedia container format that is often used for storing high definition videos (movies, 3d movies, etc.). An MKV file may contain a copy of an entire DVD or Blu-ray disc, including the video track itself (multiple video tracks are also supported), any number of audio and subtitle tracks, menus, and so on.
We can play MKV videos conveniently with Free Video Player. Among other features, the program allows easily selecting video, audio and subtitle tracks of an MKV file.
Step 1: Download and install the program.
Download Free Video Player to your computer. Start the downloaded file and follow the instructions of the setup wizard to install the media player.
Step 2: Start the program. Play MKV file.
Start the installed player. The main window will appear: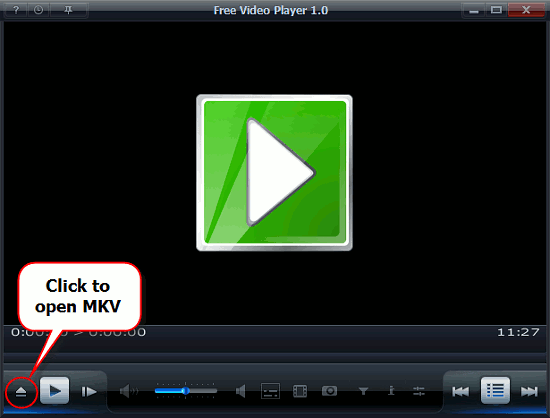 In the bottom left corner of the window, click the "Open" button. The media player will invoke the "Open file" dialog: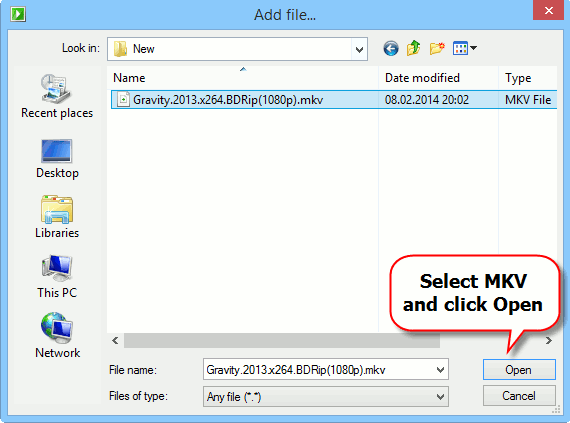 Browse to the folder where your MKV file is stored, select the file and click "Open".
Free Video Player starts playing your MKV file. The main window automatically adjusts itself to the resolution of your video.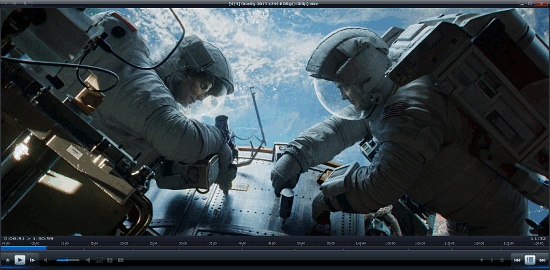 You can double click the video or press Enter to switch between the full-screen and window mode. A single click or pressing the Space button will pause the video.
To switch between audio tracks and subtitles available in the MKV file, use the controls at the bottom of the window:

Right-click the corresponding button for quick options, or left-click it for advanced options. Here, you can also load external subtitle and audio tracks.
Step 3 (Optional): Associate player with MKV files.
You can easily associate Free Video Player with MKV and other formats. This will allow you playing the corresponding files directly from Windows Explorer with a double-click.
When you install the program, it prompts to associate MKV and AVI files with the player: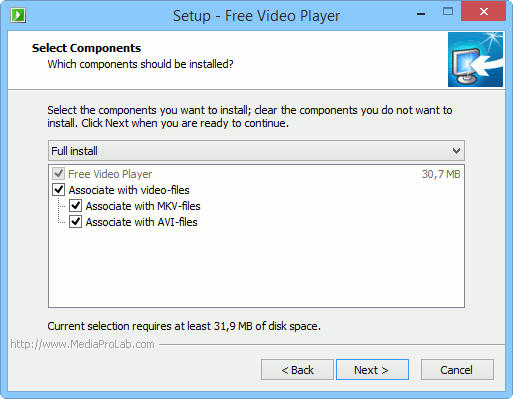 If you use the default option, you will be able to play MKV files with a double click right after installing Free Video Player. Otherwise, start the player and press F10. This will open its settings menu. From the list on the left, select "File association":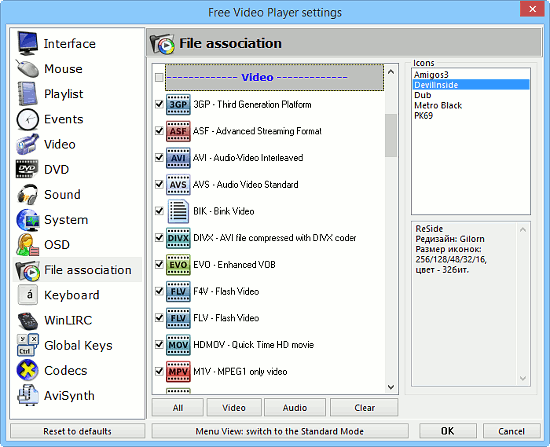 Now you can easily select individual formats to associate with Free Video Player. Clicking the "All" button will select all formats (video, audio, playlists).
Confirm your changes with "OK" and enjoy playing your videos with Free Video Player.
As its name suggests, Free Video Player is a completely free program. It does not require any registration and is ready for use as soon as it is installed.