How to play any video?
Introduction.
There are many different video codecs and formats, each with its own application area and advantages. There are well-known multi-purpose formats like AVI and MKV (with a number of codecs that can be used with them: DivX, Xvid, H.264, etc.), "media type" formats like DVD and Blu-ray, formats preferred by certain manufacturers or developers, like MP4 / M4V (YouTube, Apple), WMV / ASF (Microsoft), and many others. It is virtually impossible to have all movies and videos stored in a single format, most probably you end up having videos at least in 3-5 formats in your collection.
This is where a good video player becomes a necessity. While there are many programs capable of playing video files, most of them depend on the codecs installed in the system. Thus you can often get a message telling that the player was not able to play the video as the corresponding codec was not found. Installing various codec packs may solve this particular problem, but later you may discover various bugs, including system crashes. This happens due to the fact that such codec packs include hacked codecs tested with a limited number of software. As system codecs can be used by any program at any moment, using such codec packs almost inevitably leads to various problems.
Here we will discuss a video player that uses its own codecs without installing them to the system, Free Video Player. As its name suggests, the player is completely free. It supports over 35 popular video formats and can play any video, even if you did not install any codecs.
Step 1: Download and install the program.
Download Free Video Player to your computer and start the downloaded file. Follow on-screen instructions to install the video player.
Step 2: Start the program. Play any video.
Start the program. If you launch it for the very first time, Free Video Player may ask you a few questions regarding its configuration. You can simply use defaults and continue to the main window: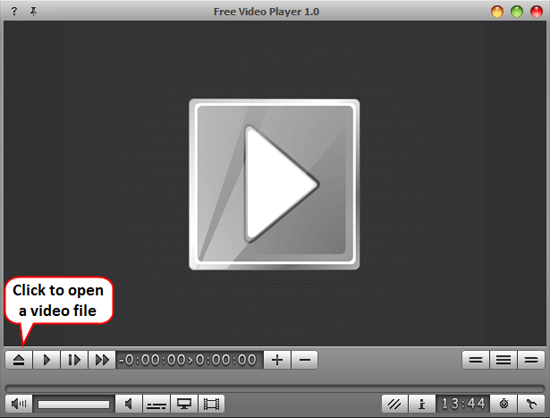 Now it is easy to start playing any video file. Just click the leftmost button (see the screenshot above). This will invoke the usual "Open file" dialog: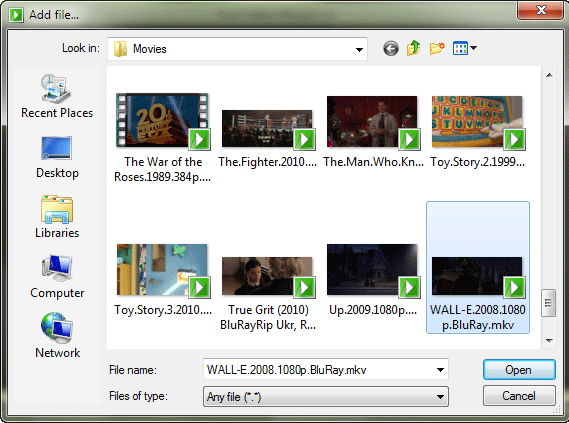 Browse to the folder where you keep your movies, select a video file and click on the "Open" button. Free Video Player will start playing the movie: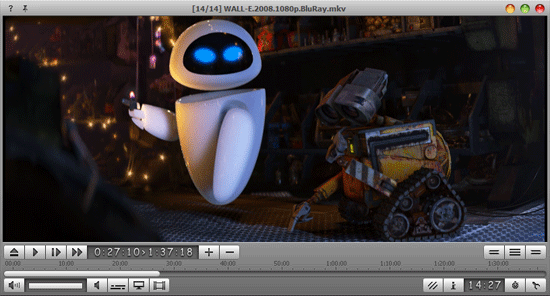 Now you can use the controls in the lower part of the window to:
Find a fragment of the video (the timeline).
Pause the video.
Adjust sound volume.
Switch between audio tracks of the video or open an external audio track file.
Switch between subtitles available in the file, or open an external file containing subtitles for the film.
Adjust colors, equalize sound.
... and more.
Press "Enter" to go full screen.
Step 3 (optional): Associate with video files.
File association allows playing videos as you double-click them anywhere in Windows, without starting the player first. While the setup wizard suggests to associate AVI and MKV files with Free Video Player, you may want to associate other formats, too. This can be done quite easily. Click the button in the lower right corner of Free Video Player (the "Options" button), or press F10 on the keyboard. This will open the "Settings" window of the program.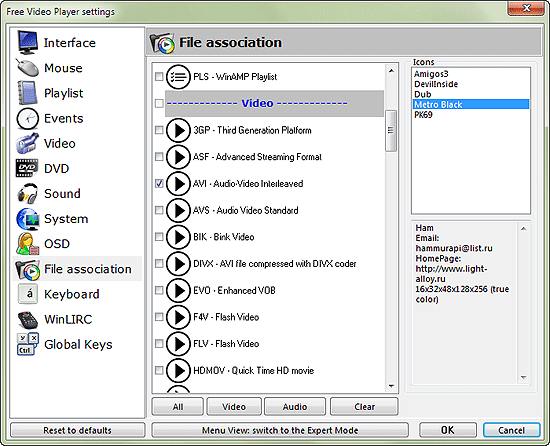 In the left part of the window, there is a list of available categories. Click on the "File association" item.
In the right part, a list of all supported formats will be shown. There are three categories: Playlists, Video, and Audio. You can easily select all formats from the corresponding section by clicking on the "Video", "Audio", or "All" button. Alternatively, select formats you want to associate Free Video Player with. Click "OK" to confirm your selection and associate the selected formats. Now you can start playing movie files in these formats by double-clicking them in Windows Explorer.