Duplicate File Finder for Music
Introduction.
Popularity of audio formats changes over time, so you may find yourself updating your music collection to the formats your new portable device supports. Sometimes different editions of the same album become available. There are also collection editions, greatest hits, best songs of the year, etc.
As a result, you get lots of duplicate files, and some of them your don't really need. They may use up lots of free space on your HDDs, but finding and eliminating duplicates manually in a collection of thousands and thousands files is something very difficult to do. Luckily, there are programs like Music Duplicate Remover that allow finding duplicates automatically.
Step 1: Download and install the program.
Download Music Duplicate Remover to your computer and start the setup. Follow its instructions to install the duplicate file finder.
Step 2: Start the program. Select folders to search for duplicates.
Launch Music Duplicate Finder. In the main window, take a look at the "Folder structure" panel on the left (1):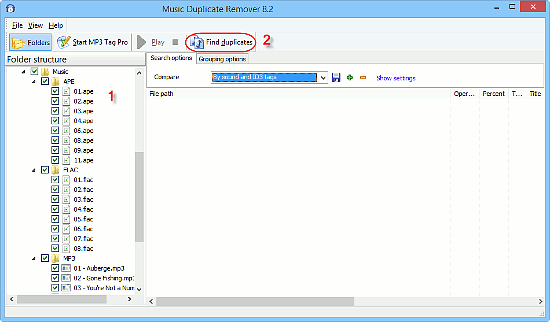 Here, folders of your computer are shown. There are boxes near every folder. You can click a box to set a checkmark, which means that the folder is now selected for scanning.
Select all folders that you want to scan for duplicates and click the "Find duplicates" button (2). But before doing so, you can check the "Grouping options" tab.
Step 3: Priority settings for duplicates.
The "Grouping options" tab allows specifying priorities. For example, you can decide that FLAC files are more important than MP3.

We can also specify folders where we prefer to keep files and folders where duplicates must be removed.
Step 4: Find duplicate files.
After you click the "Find duplicates" button, Music Duplicate Remover starts to scan the selected folders.

By default, the program scans files both by ID3 tags and by sound. This can be changed using the "Compare" field in the right panel.
Step 5: Delete duplicate files.
After the scan is finished, Music Duplicate Remover shows results in the main area on the right: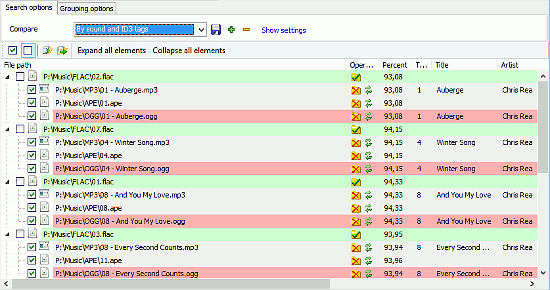 Results are displayed in the form of a tree, with "originals" as root elements and "duplicates" as their leaves. The priorities that you set in step 3 are taken into account. You can swap any duplicate with the "original" file.
To delete the selected duplicates, click the "Delete duplicates" button on the toolbar of Music Duplicate Remover.
The free trial version of Music Duplicate Remover can delete a limited number of duplicates. However, it can find duplicates without limitation.