How to download APE tags for free?
Introduction.
APE, also known as Monkey's Audio, is a popular lossless audio format. Quality of APE files is identical to the quality of the source, which is why we call it lossless. This makes APE a good choice for storing music and other audio where quality is important.
APE tags are special chunks of data in APE files that typically contain information about artist, title, album, etc. This information helps identifying songs, and you can run into various sorts of difficulties if APE tags are missing.
We will see how to download missing APE tags with Free Music Tag Finder.
Step 1: Download and install the program.
Download Free Music Tag Finder to your computer and start the file. Follow instructions of the setup wizard to install the tag downloader.
Step 2: Start the program. Select APE songs.
Launch Free Music Tag Finder. You will see the main window of the tagger: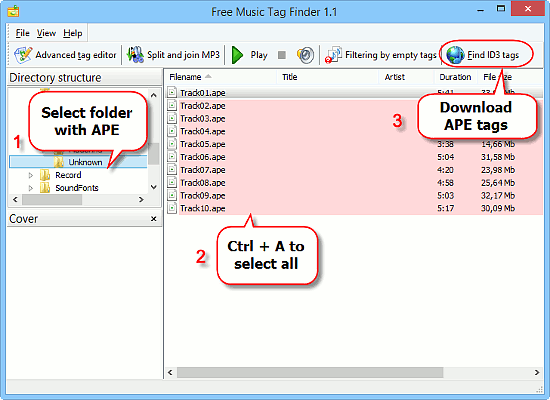 In the "Directory structure" area on the left, select a folder with APE files (1). Files from the folder will be displayed in the main area (on the right).
If there are no tags, the APE files will be highlighted with red.
You can select files in the same way as you do in Windows Explorer: a click will select an individual file, Ctrl + click will add a file to the selection, Shift + click will select all files between the one you click on and the last selected file.
Press Ctrl + A to select all files (2).
Step 3: Download APE tags.
After selecting APE songs, click the "Find ID3 tags" button on the toolbar.
Free Music Tag Finder starts analyzing audio files and looking for matches in an online database. The program does not depend on any existing details. In our example, no information for our songs is available, and even filenames do not tell much.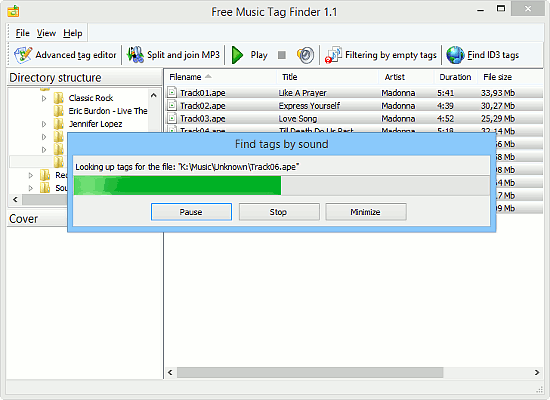 This would also work for files with completely wrong information in tags.
If you have selected many songs, you can use the "Minimize" button in the progress window to minimize the window and let the program work in the background.
When all songs are processed, the progress window disappears: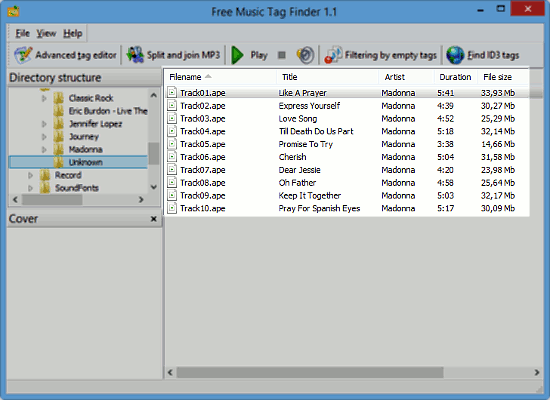 Now our APE songs are properly tagged.
Free Music Tag Finder is a completely free program, it does not require any registration and can be used without limitations right after installation.