How do I convert AVI to MP4?
Introduction.
MP4 Video gets more and more popularity and publicity, as new MP4 players appear. Apple iPod, Creative Zen Vision, iAudio, Microsoft Zune, and many other portable devices (even mobile phones) support MP4 Video. You can take your favorite movies virtually everywhere you want.
Imagine that you don't have enough time to watch the movies you like at home. Imagine that you waste a plenty of time waiting for bus, train, airplane, dentist, your friend... Doesn't this sound a bit familiar?
Well, with a portable MP4 Video player you can solve the problem of wasting and not having time.
However, to play a movie with a portable MP4 player, you should prepare it first. Compress it with a proper codec, in proper resolution etc., so that it looks wonderful and takes as little place as it could be.
We will see how to convert AVI to MP4 of this special sort with YASA MP4 Video Converter - a powerful tool devoted to MP4 Video.
Step 1: Download and install YASA MP4 Video Converter.
Download YASA MP4 Video Converter to a known location. After download is complete, launch setup and follow instructions on screen.
Step 2: Launch the program and open AVI file to convert.
Launch the MP4 converter. The following window will appear: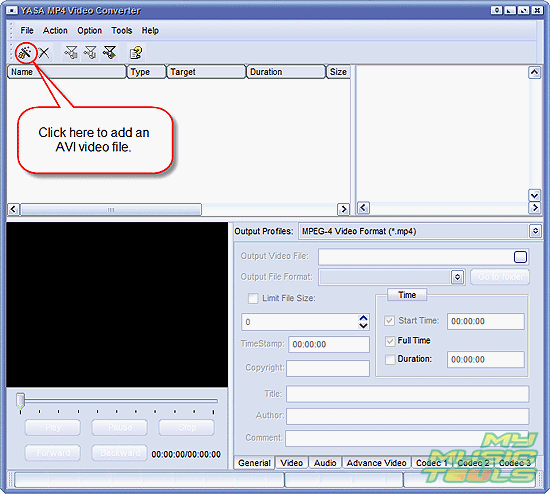 Click "Add Video Files..." button. Usual "Open" dialog shows up. Browse to the folder where you AVI file is, select it, click "Open".
Step 3: Select output profile.
The file appears in the main window. Select it.
YASA MP4 Video Converter is a pretty advanced piece of software. However, it is still very easy to use because of preinstalled profiles. You only need to select a profile from the dropdown menu: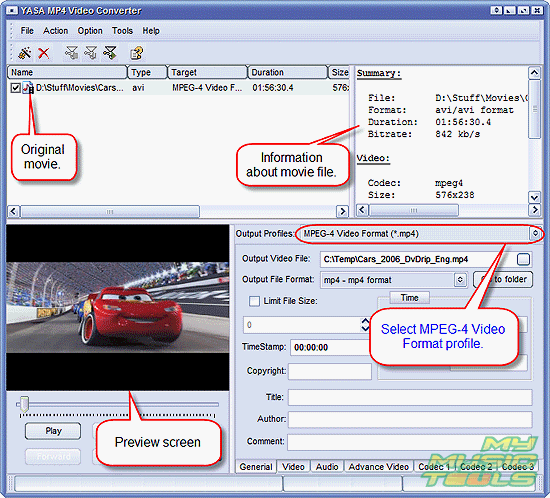 Step 4: Set output folder and filename.
As next, you should set a location where output file will be saved. You can also change filename. By default the name from original file is used, but with extension MP4 instead of original AVI. If it's OK, proceed to the next step.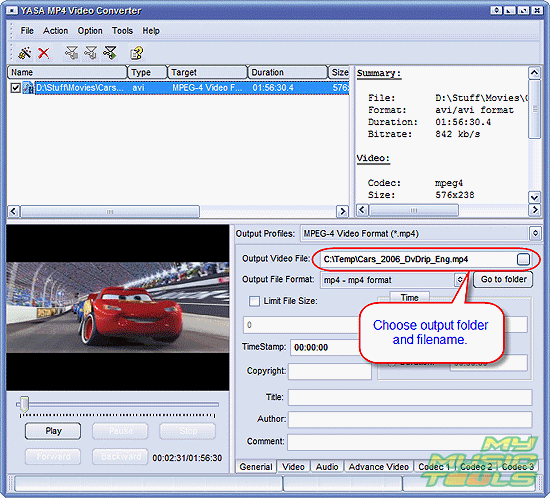 Step 5: Convert your video.
As we have mentioned before, there are numerous settings that can be corrected, adjusted etc., however, for most usual cases it is not necessary. So, you can simply click "Quick convert" button: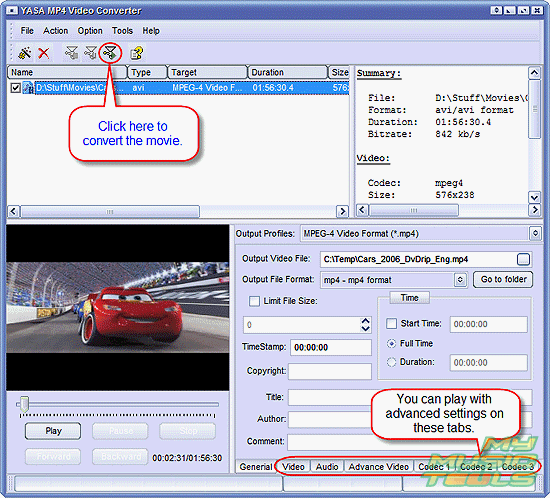 The program starts converting AVI to MP4. "Duration" column changes to "Status" and a progress bar is shown. Depending on your system, the process will take some time to finish.
Evaluation copy of YASA MP4 Video Converter allows you to convert only 5 minutes of video. If you are satisfied with the quality, you can purchase the program and remove all restrictions with your personal key.