How do I convert WMV to AVI?
Introduction.
WMV stands for Windows Media Video. It's a video codec developed by Microsoft to compete with other well-known video codecs, such as DivX, Xvid, RealVideo. It is widely used by different online services that provide streaming video, and the WMV stream itself can be encapsulated into the protected ASF format. However, many WMV video files are available for free.
If you need such a file to be played by your DVD player, and the latter doesn't support WMV-format, you may want to convert WMV to AVI. This can be done with the help of Movavi Video Converter. Among other things the program contains a full-featured WMV converter that works in the both directions.
Step 1: Download and install the program.
Download Movavi Video Converter to a known location. Run setup and follow on-screen instructions to install it.
Step 2: Start the program. Open your WMV video file.
Launch Movavi Video Converter.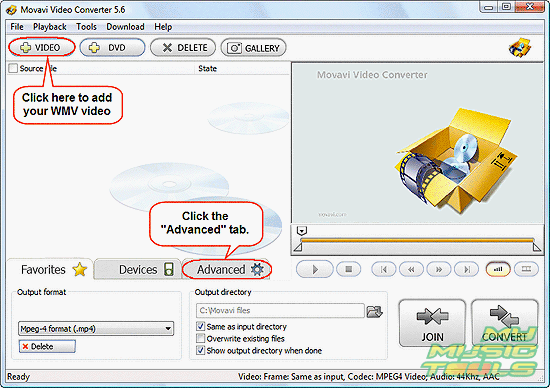 Click the large "+ VIDEO" button on the toolbar to add your WMV file(s). The program allows you to batch-process multiple files, so you may add many WMV files simultaneously.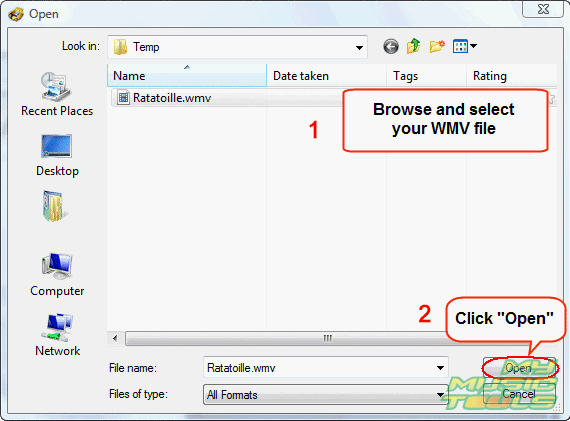 In the usual Windows "Open" dialog, browse to the folder where your video files are stored, select the one you want to convert, click "Open".
Step 3: Convert WMV to AVI.
The file will be added to the convert-list. You can preview it using the built-in player. It is also possible to set start and end time, if you don't intend to convert the whole file.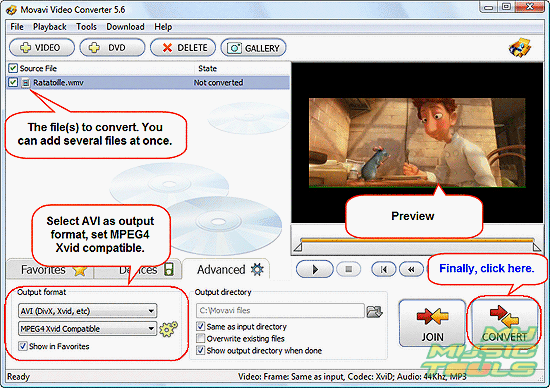 In the lower part of the window, go to the "Advanced" tab. In the "Output format" area, select "AVI (Divx, Xvid, etc)" from the first dropdown list, and "MPEG4 Xvid Compatible" from the second one. The program will automatically use the best converting quality mode. If you don't need quality and want just quick converting, you can change the settings by clicking the cogwheels on the right.
By default the output file will be saved in the same folder where your original file is stored. To set another location, just uncheck the corresponding box in the "Output directory" area and browse to another folder.
Finally, click the large "CONVERT" button in the right lower corner of the program to convert WMV to AVI.
Converting video is a slow process, especially with the best possible quality, so you can just let it run in the background.
The trial version of Movavi Video Converter converts only 30% of a file. If you are satisfied with its features, you can purchase a full version and remove all restrictions with your registration data.