How to convert TS to AVI?
Introduction.
TS stands for Transport Stream. This format is often used to transmit audio / video streams in digital television, and many videos captured from digital TV networks have the .ts extension. TS files can also be found on DVD Video discs.
AVI (Audio Video Interleave) is one of the oldest and most popular video formats, initially created by Microsoft as part of their Video for Windows framework. Most software and hardware players, including portable ones, support AVI videos.
You can easily convert TS to AVI using AVS Video Converter.
Step 1: Download and install the program.
Download AVS Video Converter to your computer and start the file. Follow instructions of the setup wizard to install the video converter.
Step 2: Start the program. Select TS files.
Launch AVS Video Converter. Its main window will appear: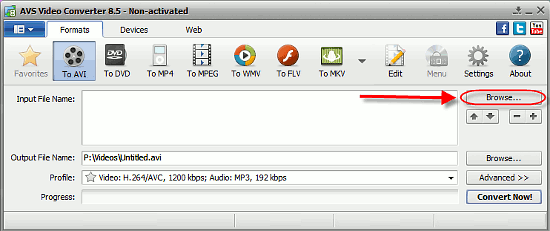 Click the "Browse..." button on the right, next to the "Input File Name" field.
A typical "Open file" dialog pops up: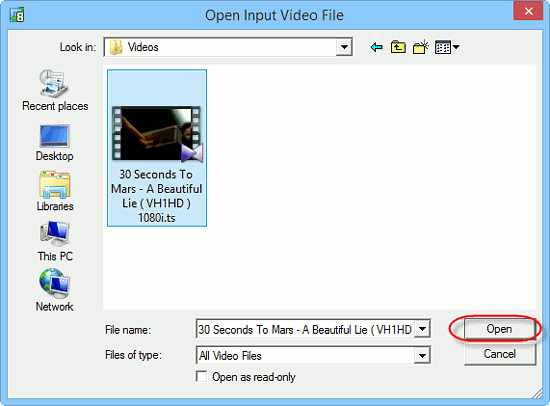 Browse to the location where your TS files are stored, select the ones you want to convert to AVI and hit the "Open" button.
Step 3: Convert TS to AVI.
AVS Video Converter will analyze your videos (depending on their number and size, it may take some time). The TS videos will be added to the conversion list.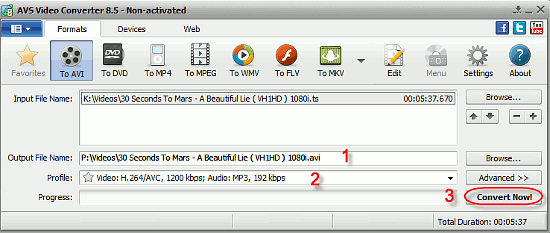 In the "Output File Name" field (1), enter a path and a filename for your future AVI file. You can also use the default suggestion, or click the "Browse..." button to select a folder using a standard system dialog.
The "Profile" field (2) suggests a profile for your AVI file, which includes an audio codec, a video codec, and their settings (just like many other container formats, AVI can use various codecs). You can click the field and select other predefined profiles, including HD video profiles and special profiles for certain devices: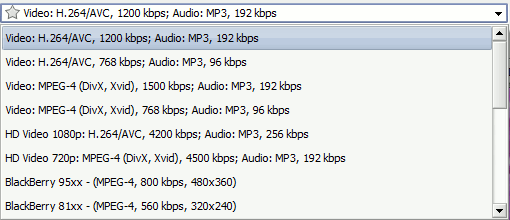 It is also possible to adjust any selected profile manually. Just click the "Advanced" button next to the "Profile" field to open additional options.
Finally, click the "Convert Now!" button in the lower right corner of the window (3).
AVS Video Converter starts converting your TS to AVI.
The free trial version of the video converter adds a watermark logo to all converted videos (source files are never changed). If you like the program, you can register it and remove this limitation.