How to convert DVD to MKV?
Introduction.
MKV is a container format for all sorts of audio, video and subtitle tracks. It was initially designed with the ability to keep multiple audio and subtitle tracks, and to contain high quality video, which makes it an ideal solution to back up DVD movies. MKV can hold Full HD video, although we will not need this kind of resolution if we have a DVD as the source (a typical DVD resolution is 720*480 for NTSC or 720*576 for PAL).
We will consider how to convert DVD to MKV quickly and easily with Movavi Video Converter.
Step 1: Download and install the program.
Download Movavi Video Converter to your computer and start the downloaded file. It will launch a setup wizard that will guide you through the installation process.
Step 2: Start the program. Select DVD to convert.
Launch Movavi Video Converter. The main window of the program will appear: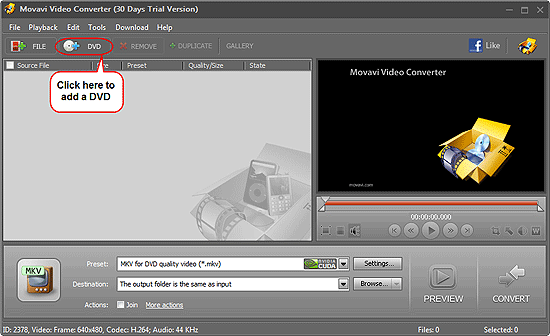 Click the "DVD" button on the toolbar. A "Browse for folder" dialog will be shown: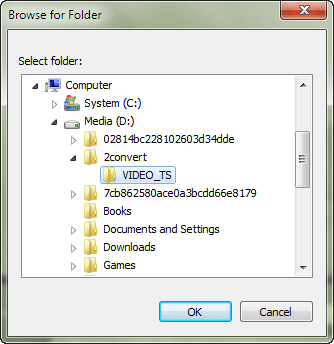 Select a DVD drive or a folder containing files copied from a DVD and click "OK".
Step 3: Select output folder and format. Convert DVD to MKV.
Movavi Video Converter will scan the selected DVD and display all available titles: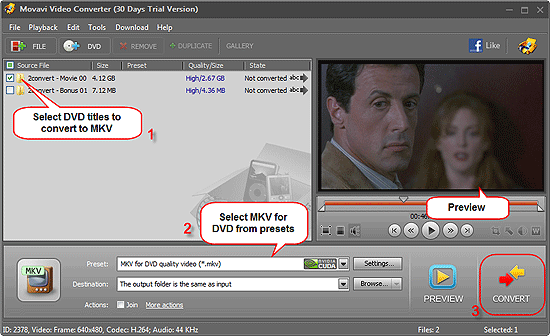 The converter detects the main movie title and selects it automatically. However, you can unselect it, or select additional titles, depending on what you need to convert (1). To preview a title, select it in the list and use the buttons in the preview area (on the right).
In the lower part of the area, click the arrow in the "Preset" field and choose "MKV for DVD quality video" from the dropdown list: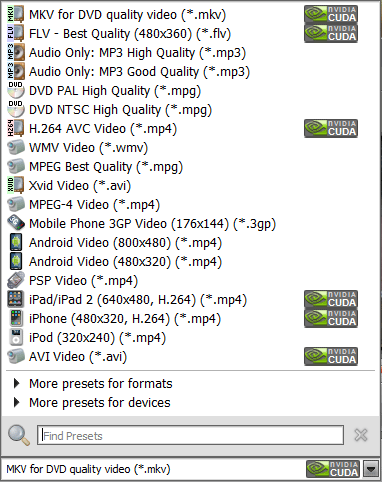 Experienced users can adjust parameters of any preset manually by clicking the "Settings" button next to the preset field. Video quality and target file size can be adjusted directly in the list of titles. Just click the corresponding entry in the "Quality/Size" column and drag the slider to the left (smaller file) or to the right (better quality):

A typical DVD contains several audio and subtitle tracks. Right-click on the title you need to convert and choose the desired audio track from the context menu: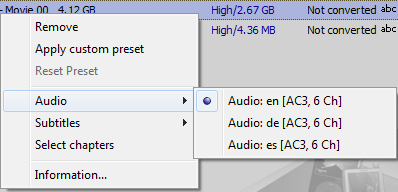 In the same way you can select a subtitle track to be saved to MKV.
In the "Destination" field (just below the "Preset" field), select the folder you are planning to save the converted MKV file to.
Finally, click the "Convert" button (3) to convert your DVD to MKV.
The free trial version of Movavi Video Converter adds a logo to all converted files. If you like the program, you can register it and remove all limitations.