How to convert MOV to AVI?
Introduction.
MOV is a multimedia container format from Apple. Unlike another multimedia format from Apple, MP4, MOV is not an international standard (MP4 was approved by the ISO as MPEG-4 Part 14 container standard). Thus it is rarely supported by third party software players and multimedia devices. To play a MOV video on your computer, you should download and install a special player from Apple, QuickTime Player. iTunes is also capable of playing such files.
To convert MOV to AVI you can use Movavi Video Converter. However, in order to decode a MOV video, QuickTime Player should be installed on your computer. QuickTime Player is freeware and can be downloaded from the website of Apple.
Step 1: Download and install the program.
Download Movavi Video Converter to a known location. Run the downloaded setup package and follow on-screen instructions to install the application.
Step 2: Start the program. Open MOV files.
Launch the video converter. In the main window, click the leftmost button on the toolbar: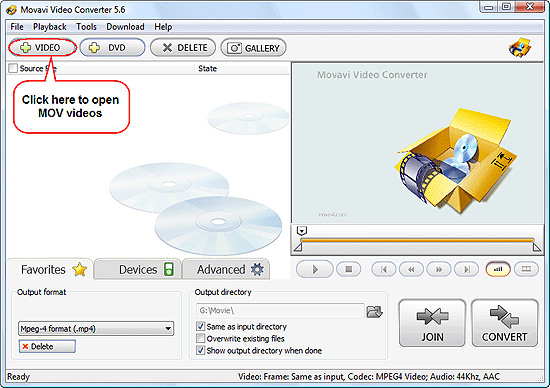 A usual "Open" dialog will appear. Browse to the folder where you keep your MOV files. Open the files that you want to convert to AVI.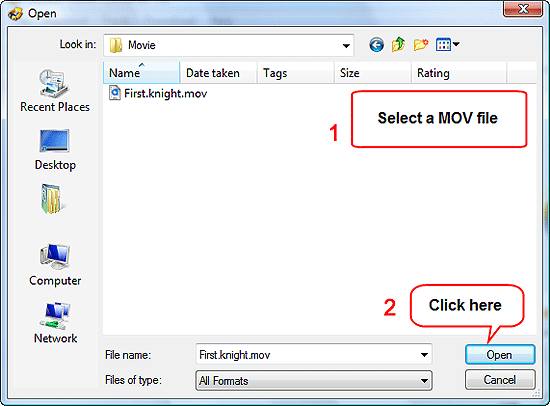 Step 3: Convert MOV to AVI.
The video file(s) will be added to the conversion list of the MOV converter. To preview a file, select it from the list and use controls of the preview area on the right.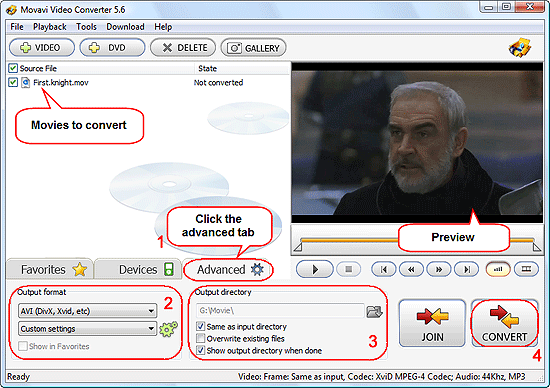 In the preview area you can also set start and end time of a fragment to extract, if you don't want to convert the entire movie. By default, files are converted completely.
In the lower part of the window, click the "Advanced" tab (1). Select AVI as output format (2). From the second dropdown list, choose an appropriate setting, or adjust settings manually by clicking the cogwheel icon on the right.
In the "Output directory" area, define a folder to save converted AVI files (3). You can use the same folder where your source MOV files are stored, or choose any other folder on your computer. You should have necessary privileges in order to be able to save files to the selected folder.
Finally, click the large "CONVERT" button in the right lower corner (4) to start converting MOV to AVI.
Processing video files is a slow process, so you can let the program run in the background (for example, minimize it to tray).
The trial version of Movavi Video Converter is able to convert only 30% of a file. If you are satisfied with the quality and features, you can register your copy and remove all limitations.