How to convert AVI to FLV?
Introduction.
AVI (Audio Video Interleaved) is one of the most popular multimedia container formats. It is often used for storing various sorts of videos: home video, movies, music video, etc. First introduced by Microsoft in 1992, it may have certain disadvantages, if compared to newer formats, but there are lots of existing videos in this format. AVI is also good supported by various hardware media players and other devices.
FLV stands for Flash Video (although the "flash video" term by itself may also refer to a different format). This format was developed by Macromedia for use with their Flash Player (mostly on the internet). It's a de facto standard for streaming video, and among its users you can find such well-known video sharing services as YouTube. Some internet sites require user videos to be uploaded only in the FLV format.
You can easily convert AVI to FLV with a program like AVS Video Converter.
Step 1: Download and install the program.
Download AVS Video Converter to your computer and start the file. Follow instructions of the setup wizard to install the video converter.
Step 2: Start the program. Load AVI files.
Launch AVS Video Converter. A small main window will be displayed: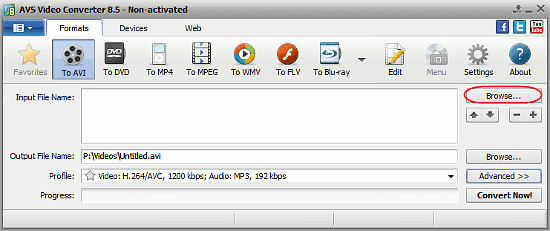 Click the "Browse..." button on the right. A usual "Open file" dialog will pop up: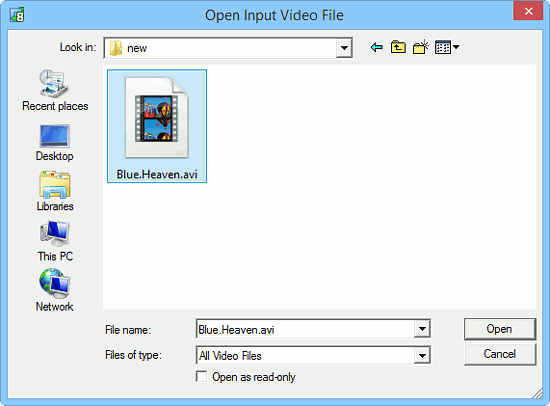 Browse to the folder where you keep your AVI files, select the file you want to convert to FLV and click "Open".
Step 3: Convert AVI to FLV.
The file will be added into the "Input File Name" list.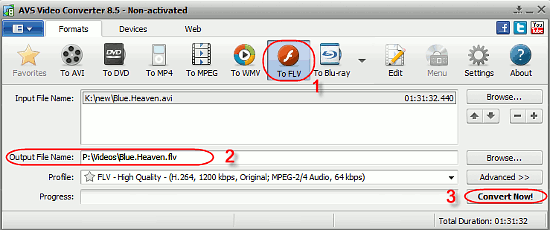 Now click "To FLV" on the toolbar of the program to switch to the FLV profile (1). You can see some basic details of the profile in the "Profile" field. If you are an advanced user and would like to adjust some properties, click the "Advanced >>" button on the right.
In the "Output File Name" field, enter the path and filename for your output file (2). You can also use the "Browse..." button on the right instead of entering these details manually.
Finally, click the "Convert Now!" button in the lower right corner (3). AVS Video Converter will start converting your AVI to FLV.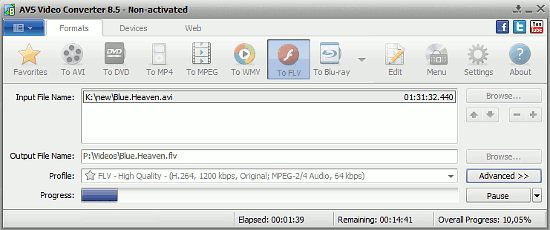 The free trial version of AVS Video Converter adds a logo to all converted videos. Otherwise it does not have any limitations. If you like the program, you can register it and remove this limitation. Please note that this will not remove the logo in your videos converted by the free trial version, so you will need to re-convert them.